Welcome to IACD.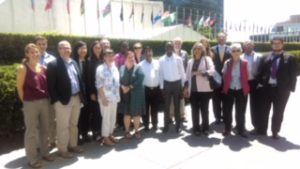 IACD members outside the United Nations in New York during the High Level Political Forum on the Sustainable Development Goals.
IACD is the only global network for professional community development practitioners. We are accredited with the UN and have members across the world. If you are a development agency manager, funder, fieldwork practitioner, academic, student, or volunteer community activist IACD can help you through our international conferences, practice exchanges, events and publications. Join today and become a part of this dynamic global network.
IACD is a global association with a membership fee. This is based upon the income and type of member wishing to join. We are open to both individuals, organisations and national community development associations across our seven global regions. We are a membership led, not-for-profit, non governmental organisation, with an elected international Board from all parts of the world. Members commit to building a global network of people and organisations working to promote participative democracy, sustainable development, rights, economic opportunity, equality and social justice through community development. .
Read about the history of IACD here.
What do we mean by community development?
"Community development is a practice-based profession and an academic discipline that promotes participative democracy, sustainable development, rights, economic opportunity, equality and social justice, through the organisation, education and empowerment of people within their communities, whether these be of locality, identity or interest, in urban and rural settings."
Why a global network?
Whilst we have convinced many people of the value of community development, funding for this work and long-term political support in most countries remains on the margins. IACD, together with regional and national community development associations and organisations, provides an infrastructure for much needed global networking and collaboration.
If you would like to join IACD then find out more here: www.iacdglobal.org/join-us
You can join our 2017 Annual General Meeting on Wednesday 9th August at 6am London Time (use this time zone converter to find your local time: https://www.timeanddate.com/worldclock/converter.html).
Call-in details
We will be using Zoom as the call-in platform for this and any other AGM meeting, moving forward.  An invitation will be emailed to you separately and there is a link within the invitation that will allow you to access the meeting.  Here is a link that shows instructions on how to join a Zoom meeting: https://support.zoom.us/hc/en-us/articles/201362193-How-Do-I-Join-A-Meeting-. We will include this link again in the Zoom invitation email, so that you have everything you need on the day.  Should a password be required, please enter: IACD.