One of IACD's lead partner in North America is the US Community Development Society. CDS is an active network of community development practitioners and scholars across the region, and it has a strong international profile and programme.  In 2016 IACD and CDS collaborated on organising a major international conference on the theme of sustainability and community development.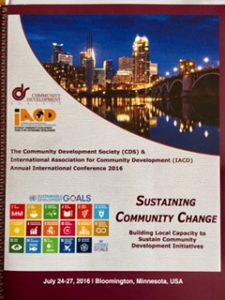 U.S. COMMUNITY DEVELOPMENT SOCIETY (CDS) ELECTS NEW LEADERSHIP
Congratulations to the new CDS President, Bryan Haynes and Vice Presidents Cindy Banyai and Craig Talmage on their election at the 2017 CDS AGM. CDS is IACD's main partner network of community developers in the USA and has a strong internationalist outlook and commitment. All three played an active part in the IACD/CDS joint international conference last year . We wish them (and the rest of the new CDS committee) warmest best wishes for their term of office.  We are especially pleased that IACD Board Director, Maryam Ahmadian has also joined the CDS Board. And finally our thanks to Chris Marko, retiring President, for all of his work in deepening the close partnership with IACD. (You can find an article by Chris below).
There are many other community development type networks and fora in North America including the National Association of Community Development Extension Professionals (NACDEP), the US National Community Development Association and in Canada we have partnered running conferences with provincial networks in both Quebec and Nova Scotia ( You can find out more here https://ccednet-rcdec.ca/en/event/2008/06/23/conference-whats-working-community-development-nova-scotia)  We are keen to publicise IACD's members' work.
Please contact our Regional Directors for North America. 
Connie Loden
(North America)
Connie Loden is one of IACD's Regional Directors for North America. Connie is the Senior Project Manager for New North, a regional economic development NGO in Wisconsin-USA. Connie specializes in community change, leadership and asset-based economic development. She served as past President of Community Development Society. Connie applies her particular passion for rural areas, helping communities change around the world. She co-leads the Community Change Network-Official Working Group of the National Rural Assembly (US), founding the Community Change Resource Bank, an on-line searchable library for research, policy and practice case studies for communities to learn how to generate positive change. Connie chairs the Communications Committee.
Greg Wise
(North America)
Greg Wise is one of IACD's Regional Directors for North America. Greg is a Professor and Community Development Specialist with the University of Wisconsin-Extension Center for Community and Economic Development and serves as the Center's Director. He carries out the "Wisconsin Idea" by conducting applied research and educational programs that address community preparedness, economic development strategies, and entrepreneurship. Greg is currently researching the use of quality of life measures to frame and track community development planning and implementation. He worked as a community development practitioner for 11 years in rural Wisconsin.
Connie Loden (cloden@thenewnorth.com) and Greg Wise (greg.wise@ces.uwex.edu)
IACD PRESIDENT PRESENTED WITH NACDEP AWARD
In July 2017 Paul Lachapelle, IACD President was awarded with the NACDEP (National Association of Community Development Extension Professionals) western region and national Distinguished Career Award.
The award was presented at Big Skies, Bold Partnerships, the Community Development Society /NACDEP joint conference, which was hosted by MSU Extension in Big Sky, June 11-14. The event brought more than 350 community development professionals to Montana for networking, workshops and tours. Participants learned about Montana's local food scene, how breweries are impacting local economies, ways the Big Sky Arts Council brings culture to the area and more.
NACDEP is an organization dedicated to improving the visibility, coordination, professional status and resource base of community and economic development Extension programs and professionals.
TRUMP ADMINISTRATION  TO SAVAGE URBAN COMMUNITY DEVELOPMENT FUNDING WITHIN THE USA
Past Republican and Democrat Administrations in the USA alike have funded neighborhood rehabilitation projects and affordable housing developments since the 1970s supported by the Community Development Block Grant Program. Now the Trump Administration has decided to end the programme. The cut is part of a $6 billion, or 13 percent, reduction in the fiscal 2018 budget for the Department of Housing and Urban Development.  The Federal Government's urban community development program has garnered bipartisan for over four decades, with c $150 billion allocated to a growing number of "entitlement communities" — generally in larger cities and counties. Currently, roughly 1,200 cities, counties, and states participate.
The community development program provides funding not just to affordable housing but for public facilities improvements like parks, health-care and child-care facilities, neighborhood rehabilitation and disaster relief. In 2016 alone, close to 74,000 households received housing assistance and more than 9 million Americans benefited from public services linked to these community development programs. The program is estimated to have created 17,545 jobs in 2016.
"It's the life blood for many cities," said Stephen Glaude, CEO of the Coalition for Nonprofit Housing and Economic Development. "It's considered one of the most flexible federal programs in that it allows local communities to determine their greatest needs." Glaude said he expected the program to be cut but never dreamed it would be eliminated, especially given its bipartisan popularity. He added that without the community development program, the number of affordable housing projects that a city could do would drop dramatically, at a time when cities across the USA are struggling to support poor communities. The President of the US National Community Development Association, Patrick Sullivan, has said 'We currently find ourselves in challenging fiscal times, facing some difficult budget cuts and proposed reductions at the federal level. I remain very optimistic that the critical federal programs that we all oversee are valued as such that they will continue. Our collective efforts are needed to support the needs of our communities'.
IACD is keen to hear from community developers working on these programs in America and how local governments and the communities affected are planning to fight back to prevent the program's closure.
NOTE:
The US National Community Development Association (NCDA) is a national nonprofit organization comprised of more than 400 local governments across the country that administer federally-supported community and economic development, housing and human service programs, including programs of the U.S. Department of Housing and Urban Development (HUD), Community Development Block Grant (CDBG), and the HOME Investment Partnerships (HOME) programs. Since 1968, NCDA has been at the forefront in securing effective and responsive housing and community development programs for local governments.
An American reflection on Sustainability 
By Chris Marko, Past President of CDS.
In July, 2016 the Community Development Society (CDS) and International Association for Community Development (IACD) partnered to conduct a conference:  Sustaining Community Change; Building Local Capacity to Sustain Community Development Initiatives in Bloomington, Minnesota, USA.  The conference was inspirational bringing many academic researchers and practitioners in the field of community development from around the world.
The conference involved the recently adopted Sustainable Development Goals by the United Nations (UN).  Delegates from IACD visited the UN in New York just prior to the conference bringing a particular enthusiasm and sense of hope for progress on multiple fronts for communities and people involved in the mission of improving the lives and environment around the world.  We featured topics ranging from place based community development, environment and health, culture, democracy and social justice, leadership, entrepreneurship, community development theory and practice, community capitals framework, education, and youth.  With our changing world we must remember the importance of people coming together to share their knowledge, engage in open and constructive dialogue, and provide mutual support in the hard we work we do as community developers.  This article offers some reflections on my own experience and thoughts for how we can continue making progress toward a sustainable world for everyone.
I am a first generation born American.  My parents experienced some of the most oppressive, violent, and crushing events when their country of Hungary fell to siege by Russia, while the world watched "freedom fighters" attempt to sustain their sovereignty in the Hungarian Revolution of 1956.  During a one week period the country of Hungary went from glory of exercising their freedom to overthrow the oppressive Russian regime, to having thousands of tanks rolling in, killing over 15,000 people who stood up for their country, and 200,000 people fleeing the terror including both my parents.  While I was not directly a part of it, this deeply impacted and in ways defined my life.  Where would I be without the fate of my parents reuniting in the United States and Canada who welcomed Hungarian refugees with open borders, along with Austria, Germany, and Great Britain who served as gateways to freedom for my parents.
How the world stays the same, and how it changes.  My parents always said how the damage of that event, and 30 plus years of oppressive occupation by the Soviet Union would take generations to recover from, if ever.  Unfortunately Hungary continues to face challenges with addressing civil liberties and has been centre of criticism in the midst of the current complex refugee crisis for Europe.  Now we have conservative, and extreme, backlashes to democratic and economic systems which challenge is to question our ability to sustain ourselves, like Brexit, and the recently negative Presidential campaign in the U.S. which turned into a verbal boxing match as much as real, productive dialogue around issues which matter to people—and this is spilling over into how we as U.S. citizens engage with one another as the world seems to be dividing more than coming together.
How long can this last?  Well, as long we continue to make choices which perpetuate our behaviour based on fear, identity crisis and self-righteousness, which assumes we know more than do about other people, countries, and the world without questioning ourselves, listening to others, and seeking information and perspectives.  Not only do we need a new dialogue, but we need a new way of dialoguing to open our hearts and minds to understanding, and promoting, a better humanity.  I am not talking about more "cumbaya" as a soft idealistic community developer, although I don't think that would hurt; I am talking about a real earnest re-examination about how we are approaching each other and creating space where we can openly discuss differences, not whether you agree with me or not.  Conversations without personally attacking one another, pulling a gun or fearing for your life, or categorizing people to alienate them and further support our assumptions, limit our thinking and compassion, only to support that we are "right".  That is where real change happens.
To quote Abraham Lincoln, who was a Republican:  "do I not destroy my enemies when I make them my friends?".  Now you may say, "are you crazy?!  We have all of these terrorists, hate groups, and people you just can't talk with or change!  I can't accept it"  OK how are we going to change anything when it seems the pendulum is swinging in a different direction than we thought, or hoped, and we keep approaching things the same way, and even worse now, with such negativity, anger, and despair.
When was the last time you questioned your assumptions about information you read, the person you just categorized into some group of ideology, the candidate or initiative you thought did not have a chance, without opening your mind to the fact that "anything is possible".  And we are being shown this it seems more than ever.  These are windows of opportunity to create real change, to consider what is sustainable, and take action toward creating the environment and social interaction which will lead us to a better future.  We are certainly seeing this as our world views are becoming more and more challenged by people who feel disenfranchised—disenfranchised based on their definition which may not seem "appropriate" or in the way you might think.  That is the deal.  All of this is a wake-up call to question the reality we are in (or thought we are in), to embrace this, and really change—not changing others, but creating an environment where change is more possible.
For example if you think I am just some liberal, feel good, progressive community developer idealist and I think you are some narrow minded conservative, homo/xeno/islamophobic, ignorant racist, and our conversation becomes focused characterizing each other these ways we probably are not going to get too far.  I have always believed that we need to protect the environment, conserve natural resources, but when we cannot even talk with each other in a civil way what will it matter (to us)?  We will destroy ourselves before the environment which in either case is not sustainable.  So what can we do to create and sustain desired change?  Let's look at the UN Sustainability Development Goals to see what this framework offers:
There are 17 UN Sustainable Development Goals.  Perhaps there are too many, they don't include elements you would consider most important, or state the terms and categories you think are most representative and/or appropriate to REALLY capture "sustainability".  This is a framework folks—a framework which took great thought and consideration of the complexities of our world—a framework which can be improved like any, and one which offers a richness, diversity, and opportunity to consider many facets of our societies and world we can embrace holistically, rather than through division.  I suggest looking at the 17 Sustainable Development Goals in terms of what do they say about what is important to you, your families, community, environment (if that matters), Tribe, state, nation, and world.  I will share some of my perspectives and suggestions for action toward sustainability:
SDG 1 – No Poverty.  I read a great book "What's Fair", it discussed how the view of poverty varied greatly and could not be tied to class.  That is to say, some poor people feel like they should be poor, that rich people deserve to be rich, some rich people believe people have an obligation to distribute wealth, other feels we do not, and some poor people feel the same.  If you are someone who is interested in more equal distribution of wealth, this one is for you.  How do we actually shift wealth and resources to go toward supporting an end of poverty?  Let's start with sharing.
Since the election in the U.S. friends and colleagues are encouraging donations to organizations who are actively working on alleviating poverty through education, programs and services which empower disadvantaged people, and civil rights.  The Southern Poverty Law Center is an example.  They are currently displaying information about instances of "hate" symbols toward people (swastikas spray painted on walls in public places, white children bullying brown skin and Muslim children in schools, telling them they and their parents do not belong in this country, and other divisive acts perpetuate alienation and poverty of minorities.  SPLC has a petition calling on President elect Trump to honour his pledge to represent all Americans—poor, rich, black, white–all.  Will this be enough?  We will see.  Check out advocacy groups in your area and get informed and engage.
SDG 2 – Zero Hunger.  There are many arguments about population, resources, that we have exceeded our carrying capacity, but in any scenario we still have an inequity in the share of resources which is related to DISTRIBUTION as much as AMOUNT.  The fact is MOST people in the world do not have access to basic needs to fulfil their lives.  Water, food, shelter are all elusive to people throughout the world.  Donating to food shelters, participating in can drives (donating food to organizations), contributing to disaster relief efforts, and depending on your way of life, contributing through churches, special drives, and "Holiday giving" (just around the corner) are all basic ways to helping to alleviate hunger.  On the front end, understanding the impact of consumption and waste, monitoring consumption, recycling, and supporting businesses which promote reuse, recycling, and utilizing food waste can indirectly improve how we utilize and consume resources and food.  Volunteer at a community kitchen or shelter for front line experience.
SDG 3 – Good Health and Well Being.  What can I say?  I don't like this one?  I do like this one.  A lot.  When we talk about civil and constructive discourse we are talking about good health and well-being.  When we treat each other with mindful, thoughtful, compassion we actually release chemicals in our brains and bodies which promote good health.  Does that stress you out?  Well take it easy, you might have a heart attack if you get too tense over time.  Hope can actually help in life and death situations.  At the CDS IACD conference, we had several sessions on "Community Well Being" which were truly inspiring for our work and lives.  Unfortunately good health and well-being are often related to environmental and societal luxury, where people may have leisure time and pressures may not be so limiting than in societies and places where people face extreme challenges securing basic needs for survival.  Find ways to create space for nurturing beyond your "normal" conditioned space.  Be kind and good to one another.  It can go a long way to making you, those you associate with, and possibly others, better than worse.
SDG 4 – Quality Education  What does this mean?  To me it means supporting the intellectual, physical, and emotional development of people to pursue, develop, and master their passions, knowledge, and abilities to improve their lives, and society (bonus).   It also means cultivating quality educators to guide young people, communities, and each other for better understanding, economic opportunity, and civil society.  When education is not funded adequately, when teachers are not educated, or knowledgeable, and when children are not able to afford going to school we will not have quality education.  Quality education also means understanding there are different types of education, different approaches, and even different goals for education.  At least that is what I think.  What do you think?  Have you volunteered at a school?  Have you considered participating in youth mentoring?  Are you ready to retire?  Keep reading, writing, thinking, and sharing…we can only benefit from greater understanding.
SDG 5 – Gender Equality  I had the fortune of serving an advisor in a Women Studies course during college.  As a white male this was not welcome by some of my female colleagues which I understood, and was challenged by.  I learned about "theories of difference" which described the cycles of oppression through identification of groups—gender, race, class, age, all isms of protected classes in civil rights law.  This was one of the most educational aspects of my life which broadened my understanding of how we selectively oppress people by groups, and how change involves looking beyond discrimination of just one group.  I also learned about the various perspectives women had being brought up in traditional families which they thought was perfectly fine, and were uncomfortable with "feminism" as it challenged their beliefs.  I can say that in the most recent election in the U.S. I am disappointed in women who voted for a man with such overt offense toward women (and others—classic "theories of difference" case in point), but realize it is more complex than that.  I do hope we can bring about more equality, which I believe depends on our ability to recognize, and appreciate, differences.
SDG 6 – Clean Water and Sanitation  I work for an organization, Rural Community Assistance Corporation (RCAC), which provides training, technical assistance, and financing for rural communities in the areas of drinking water, wastewater, solid waste, affordable housing, financing, leadership, community economic development, and advocacy.  This goal is particularly relevant to my work.  Some of the key challenges regarding clean water and sanitation involve affordability of developing, and managing, systems.  Rural areas lack technical, managerial, and financial capacity to develop, finance, and manage projects.  USDA Rural Development and U.S Environmental Protection Agency (EPA) have embraced a model for Sustainable Utility Management involving 10 elements for effective utility management:  product quality, customer satisfaction, stakeholder engagement and support, infrastructure stability, operational optimization, operational resiliency, water resource adequacy, community and economic sustainability, and employee and leadership development.  Globally we need more investment in basic infrastructure, and support for assistance with effective management of water and wastewater systems.  Water is life.
SDG 7 – Affordable and Clean Energy  In our modern world, energy (and electricity) have become more essential services which we in developing countries take for granted.  At least where I live in Oregon, we have relatively inexpensive electricity rates in contrast to other parts of the country, in part due to development of hydro power in the Pacific Northwest.  I have colleagues involved with the energy sector who claim that we will never be able to rely on renewable energy to support our consumption (another one of the UN Sustainable Development Goals).  So this one involves looking not only at how we extract and utilize resources to produce electricity, but how we demand and consume power.  If we are going to be sustainable with energy, we must radically shift the way we live, from extraction of resources, production of electricity, distribution infrastructure, and consumption.  Conservation is another policy tool to help reduce consumption of energy.  Our dependence on fossil fuels is not sustainable.  It creates acute pollution, if not global warming (or climate change most scientists validate), and represents an era we seem fixed in, but really is a small period in world history.  Research and investment in alternative energy, in addition to conservation, is a must for our sustainability, whether or not politicians deny global warming.  Drive less, ride a bicycle, turn off the lights, turn down the heat, use energy efficient appliances, take action.
SDG 8 – Decent Work and Economic Growth   As someone involved with entrepreneurship training and technical assistance I have learned quite a bit about the power of personal development and business.  Decent work and economic growth can come about in various forms.  The traditional form of economic development has been the industrial recruitment model.   Create the right environment, build it, and they will come.  How many times have we seen companies with their industry locate in an area, without truly investing in the community for the long term, pull out, relocate, and/or consolidate when the economy "heads South" (so to speak).  We have seen it in the Pacific Northwest with the rotation of forest harvesting by big companies, and the collapse of our auto industry and manufacturing jobs getting shipped out of the country undermined a sustainable economic system.  We need an economy developed by people who are empowered, supported, and vested in communities to become more sustainable.  The majority of businesses supporting jobs are "small businesses" of 150 or less people.  The idea that a large outside company is going to land in our community and save our economy can work, but only as long as the "outside" economy does well.  Local business and work builds community.
SDG 9 – Industry, Innovation, and Infrastructure  To go along with industry, let's talk innovation and infrastructure.  As mentioned, industry can support economic vitality, but it is important to consider how that industry will be vested in a community.  Strategies which build on local assets, strengths, mitigation of weaknesses and threats, and opportunity from individuals and within communities, and regions, can best represent the values, and hence, interests of community.  CDS has promoted the "Community Capitals" framework to highlight multiple values of community development.  This framework has been further adapted by other innovative approaches to economic development including Wealth Works.  The idea involves recognizing eight (8) community capitals, or values of wealth, including intellectual, individual, social, cultural, natural, built, financial, and political.  By developing "value chains" and partnership networks, businesses can be developed to meet demand which creates local value based wealth.  "Infrastructure" could be viewed as physical, as well as social and other, conditions for business to develop.  Business as usual is not sustainable.  Value based wealth is.
SDG 10 – Reduced Inequalities  See "gender equality" and discussion regarding "theories of difference".
SDG 11 – Sustainable Cities and Communities   I have the fortune of living in Portland, Oregon, a city which has embraced a "sustainability" ideology in planning and action.  The state of Oregon was the first state in the U.S. to enact Land Use Laws to govern "wise development" in the 1970's under Governor Tom McCall, a Republican.  While many folks, particularly in rural areas, believe Oregon's Land Use system should be changed, or even abolished, these laws and guidelines have helped facilitate growth in a manner which has reduced urban sprawl, development which has considered agriculture lands, natural resources, and open space, and fostered a culture of smart growth, particularly in Portland.  Portland has one of the highest populations of people per capita who ride bicycles, a light rail system including inner city trolley routes, recycling and reuse programs and facilities, community gardens, natural resource educational programs, and a quality park system which supports an overall high quality of life.  Unfortunately the discovery of Portland is bringing in growth pressure, increased housing costs, and the need to be more reactive than proactive.  Our education system is also not supported enough and we have a notable homeless problem.  Sustainable cities means more than smart growth, it means continually re-evaluating goals and activities, and community engagement, to develop local solutions.
SDG 12 – Responsible Consumption and Production   Think locally, act globally.  Responsible consumption involves understanding where products are made, how they are made, how they are distributed, and how they impact health, environment, and economy.  When we eat food transported thousands of miles from farm to plate, that involves additional consumption of resources, fuel, energy, and additional cost for the product.  When we contaminate our food with hormones and chemicals, do not educate consumers about what is in our food and risks, and continue consuming processed food out convenience and habit, if not affordability, that is not sustainable.  There are many recent films highlighting the challenges of food systems including the impact of fast food on our society and health (Omnivore's Dilemma, Fast Food Nation, Supersize Me).  When we buy products made in other countries, as common and affordable as that may be, it is not responsible in supporting a local economy which supports communities.  Educate yourself about the products you buy, compare costs of local products and trade-offs, and maximize the value of your money in what you buy, and consume.
SDG 13 – Climate Action  Reduce dependence on fossil fuel, walk, ride a bike, take mass transit, reduce waste, reuse, recycle, grow food, reduce dependency on products which require transportation (and use of fossil fuel and energy), reduce energy use particularly at peak times, get off the grid, if you get on the grid consider how you use energy and can save, get a solar retrofit, ride share, educate others about the science behind climate change, look at the polar ice caps, go to Glacier National Park and see how far the glaciers have retreated.  Take action now more than ever because the 'denial of climate change' is back with a vengeance.  Wear sunscreen, get educated on the impacts of solar radiation on skin, be prepared for disasters, have a survival kit, and think about what you need vs. what you would like.
SDG 14 – Life Below Water   Our oceans are the reservoirs of life, and they are being destroyed.  Signs of plankton decline, coral as living rock protecting shores dying off, coagulating masses of plastic "film" never before recorded in vast areas of our oceans, mammals dying from plastics and management practices in oceans, are all red alert alarms we need to be paying attention to—not to mention rising sea levels due to GLOBAL WARMING.  Islands in the South Pacific are dealing with this as the water literally is rising and covering areas formally above sea level.  One impactful film I watched this past year documented activity in Antarctica regarding penguins which was informative about the visible changing landscape (ice scape) of the area of our planet which is supposed to keep us (and penguins) cool.
SDG 15 – Life on Land Personally as a human being who lives on land, I like this one.  Read it and act.
SDG 16 – Peace, Justice, and Strong Institutions   This one is difficult, especially nowadays.  It seems we have just gone through a time when we have made great strides in civil society, support for diversity, and recognition of injustice to bring about justice.  It has been turbulent, and with fears growing within countries like the U.S., and across borders throughout Europe, this will be one of the most important goals to address regarding sustainability, and civilization.  We must remain vigilant, and open to perspectives to achieve peace.  We must understand the anger associated with oppression, disenfranchisement, and alienation and find ways to deal with it constructively, productively, and if possible compassionately.  How do we deal with "terrorism"?  How do we deal with people who do not want to engage in peaceful behaviour in the name of "justice"?  These are extremely difficult questions to answer, but we must be willing to explore alternatives to violence.  Violence kills.  Peace supports life.  As community developers I believe our mission involves creating the space of opportunity, possibility, and following through with support for programs, policies, and action to promote peace one person, and community, at a time.  Learn about organizations promoting peace and offer your services.  Be an ambassador of peace, learn about mindful awareness, learn to meditate, and love each other.
SDG 17 – Partnership for the Goals  We are all in this together.  We cannot sustain ourselves alone.  It is proven that human beings need each other to survive.  That is the same with organizations and agencies.  While we all have self-interest, individual missions, and are involved with different, distinct programs, and motivations, we need to realize the power of collaboration and partnership.  Furthermore we need to mitigate the "silo" mentality that somehow what my program does, does not relate to what your program does.  We need to see the connections between things, rather than separation.  Everything is related and that is a fundamental mindset we need to embrace for a truly sustainable world.  The world as the earth has been around for a lot longer than we have been "a part" of it.  We need to understand we are part of the earth, and each other, as partners.  The alternative is to think we are somehow separate which ultimately leads to our demise.  Seek collaboration, find common ground, develop win win opportunities, and move forward together to address challenges of our time.