Community development, as with all professions, needs to ensure that the ways in which we look at the world and the ways in which IACD members seek to support communities is as up to date as possible. IACD's Training and Professional Development Committee, chaired by John Stansfield, includes practitioners and community development trainers  with years of experience in this field.
Community development practitioners, agency managers, trainers, funders and policy advisers want continuing professional development support. IACD is expanding this area of its support for members. In 2016 we published a new global definition of community development to ensure some clarity across the world that we are all talking about the same thing. But further that the profession itself stated clearly that we see community development as  "a practice-based profession and an academic discipline that promotes human rights, equality and social justice, participative democracy and sustainable development, through the organisation, education and empowerment of people within their communities, whether these be of locality, identity or interest, in urban or rural settings. 
Practitioners of community development need to ensure that they are skilled at viewing the community where they are working holistically, recognising the interdependence, interconnections and relationships between various resources in a community, be they human, social, political, cultural, financial, natural or built.
To be skilled at the organisation, education and empowerment of people within their communities, requires underpinning and up to date knowledge about theories of community development, education and organisation, political, economic and social sciences, ecology, humanities and indigenous knowledge and a tool kit of skills for community educating and organising.
ARE WE NOW READY FOR AN INTERNATIONAL FORUM FOR PROFESSIONAL COMMUNITY DEVELOPMENT EDUCATORS?
In 2015 IACD launched the findings of an international survey that attempted to map qualifying/graduate courses around the world which 'claimed' in their course publicity to be teaching community development. Over 1000 such programmes were identified. The findings of the mapping study were announced at two well attended sessions – at the 50th anniversary conference of the Community Development Journal in Europe and at the US Community Development Society Kentucky conference in the USA.
One of the follow ons from this work has included the link up between IACD, the American CDS and the New Zealand ACDA to launch the Global Community Development Exchange repository of teaching and learning resources. This on-line resource bank includes CD education course curricula outlines. Still at an early stage of development, GCDEX which was only launched in late 2016 is a rich source for resources for CD educators and students. Another outcome from the Kentucky event, has been the success of Kentucky University in securing c $750k to review CD education degree programs in the US. This two year action research program will include the networking of CD educators across America. (You can find more information about GCDEX and the University of Kentucky initiative on the News Pages of this website)
Over the past forty years, since IACD first hosted an international clearing house for CD training programs, a number of national initiatives at networking CD trainers have developed, notably in Scotland and Ireland. And in the recent past EU funding has enabled networking and partnerships between CD education providers across Europe. However a sustained international forum that can network and support existing and new CD education and professional qualifying training programmes globally has not occurred. This is in stark contrast to the much more effective international networking in Social Work education through the International Association of Schools of Social Work.
With the successful launch of GCDEX, the US initiative and others, is the time is now right for IACD to establish a global forum or CoP (community of practice) for departments and individual educators teaching professional community development? Such a forum could for example:
-develop and promote excellence in community development education, research and scholarship globally.
-create and maintain a dynamic community of practice of CD educators and their programmes.
-support and facilitate participation in mutual exchanges of information and expertise.
-represent CD education at the international level.
IACD Training Committee members have recently begun to discuss this idea and will be considering how to take it forward at the forthcoming Training Committee meeting in early October, with the proposal of launching a global forum for CD educators at the World Community Development Conference in Ireland in 2018.
We welcome feedback on this idea from members teaching CD around the world. Please send your thoughts to Charlie McConnell. Charlie is leading IACD's current work on developing international standards for CD.  charliesmcconnell@gmail.com
We have also initiated a project to identify and produce a set of international occupational standards and ethics for community development practice. You can find more about this work on the Policy and Advocacy pages of the website.
The new SDG agenda presents challenge and opportunity for professionals working in community development. For too long perhaps some community developers have equated their work with social development programmes, or with somewhat small scale local economic development. Whilst others in our field have engaged more in environmental education and protection. We must bring these insights together if we are to help communities make real world connections between the social, the economic and the environmental. Indeed one should add to that the political and the cultural development role that community development practitioners can play
Our priority from 2016-20 will be to provide learning support to assist members to engage with and understand the SDG agenda. 
The Training and Development Committee is currently designing an on-line blended learning IACD certificated programme. More news will be posted about this programme in March 2017.
In addition, the Training and Professional Development Committee is also responsible for:
overseeing the development of the Global Community Development Exchange (see this page on the website). This is a global repository of teaching and learning resources for those working, teaching or studying to work in, community development;
the development of international occupational standards for work in community development. You can find out more about this initiative on the Policy Positions page of this website;
overseeing the publication of IACD's Practice Insights magazine and any other IACD publications.
From 2004-12 IACD supported its members to share and learn from each other the challenges, opportunities and implications of different Assets Based Community Development approaches around the world (ABCD).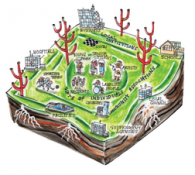 IACD supported continuing professional development around ABCD through a programme of meetings and events, including as part of the CIVICUS World Assembly. A partnership between IACD and the Carnegie UK Trust, brought together members into what we called the FierySpirits Community of Practice This programme has now ended, but you can still access a collection of IACD member case studies and other useful teaching and learning materials in our publication, 'Appreciating Assets'.
US STUDY WILL EXPLORE HOW TO OVERCOME FRAGMENTATION IN COMMUNITY DEVELOPMENT EDUCATION
Despite cuts in some areas of public expenditure in the United States, professional community development degree programs continue to increase in the United States. But some critics assert that the field is fragmented and disjointed. The University of Kentucky Department of Community and Leadership Development has received a $740,000 (U.S.) three year grant to address this fragmentation. The research will address 7 major objectives:
1) Conduct a national study of the status quo of graduate and undergraduate programs in community development;
2) Build a network of community development educators by convening a national conference that focuses on innovative curriculum educational practices, student development and professional development needs.
3) Convene a summit of diverse community education leaders to develop a national agenda for community development education
4) Build institutional capacity to support community development education by creating a virtual community of practice to share educational research, practices, resources and community engagement techniques.
5) Develop a special issue of Community Development that focuses on pedagogical theories and philosophies, disseminate innovation, best practices and future trends.
6) Encourage instructional and programmatic innovation within community development education through mini-grant system established for graduate and undergraduate educators,.
7) Enhance cultural compétence among community development education faculty; heightening instructors' abilities to create inclusive educational environments for increased diverse student participation.
Several IACD members are closely involved in the project team, including Cari Patterson, former IACD Secretary General, Ron Hustedde, former Vice President and past Community Development Society President.  Bryan Hains the current president of the American Community Development Society is the lead investigator on the initiative. (see picture)
This study is the largest research and development program in community development education for many years, and IACD will be supporting it fully. The timing of the study links well with the Association's parallel work on developing international standards for community development education and practice. Ron Hustedde, the lead instigator behind the project is a member of the IACD Training and Professional Development committee and has been briefing the committee since the early days of the project design.