IACD has consultative status with the United Nations.
This means that we participate in UN meetings and consultations, to be kept in touch with and contribute to latest thinking about development issues.  Since 2014 our priority has been around the UN Sustainable Development Goals. We attended several INGO consultations and were at the UN in 2015 and 2016 for the publication of the SDG targets and for the High Level Political Forum, where we organised a full house official Side Event on the theme of community development and the SDGs.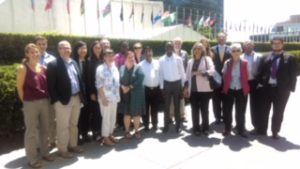 IACD members outside the UN in New York during the High Level Political Forum on the SDGs, July 2016.
Over the next three years IACD plans to have a presence at appropriate UN events related to progressing the SDGs. Our focus being to raise the profile of the importance of community development practice and scholarship in both strengthening the capacity of vulnerable communities, but also of enhancing governmental, non-governmental and business sector expertise as listening to and engaging with local communities and communities of interest and identity.
2017 ANNUAL REPORT SUBMITTED TO UNITED NATIONS
As an accredited organisation to the UN, the association is required to submit a brief annual report on our work. The format is a questionnaire that largely focusses upon the amount of work we have been doing to support the Sustainable Development Goals Agenda 2030, which we have agreed will be the association's policy into practice priority. We are asked to illuminate this with examples of our work and for 2017 we have highlighted the Auckland conference – Sustainably Yours, about which you can find the conference proceedings report on the Conferences page of the website; the two special SDG issues of Practice Insights which presented case studies and commentary from around the world on CD and the SDGs; and the establishment of the Global Community Development Exchange, which uses the SDGs themes as core to its indexing.
IACD currently has four active representatives who try to attend events and consultation meetings at the UN in New York or Geneva. These are Anastasia Crickley who is the current chair of the UN Committee on the Elimination of Racial Discrimination (CERD), Tony Kimbowa who also works for UN Women, Randy Adams Past Vice President and Esther Farmer, New York based member. During the year our reps attended the following meetings at the UN:
1. Africa-Decade for People of Africa Descent;
2. Intergenerational Dialogues on SDGs;
3.. Education for Global Citizenship Conference;
4.. Rethinking Social Development in light of SDGs;
5. CSW 2017 – Malawi and UN Women;
6. 20th UN Youth Assembly August 2017 chairing a panel with a focus on the role of Youth as ChangeMakers in their communities.
In her role as CERD chair, Anastasia attended many UN related events and spoke at the assembly. See her address below.
WE HAVE APPOINTED TWO YOUNG IACD MEMBERS TO JOIN OUR U.N. REPRESENTATION TEAM DURING 2018
IACD has appointed two youth members to join our team of volunteer representatives able to attend UN NGO consultation meetings in New York and/or Geneva – Alyssa Faulkner and 
Michael
McTernan.
Young IACD members at the UN in 2015
Alyssa Faulkner.
Alyssa is from Scotland and is currently doing a Community Learning and Development degree at the University of Dundee. She has done voluntary work at various organisations  including Young Scot and Hot Chocolate trust, BBC Scotland and Diabetes Scotland, all around discrimination and community development. She is not afraid to challenge views when she doesn't agree with them. As she wrote in her application – 'I am a big supporter of collaborative working, as I understand that everyone has different skillsets, and therefore networking is a fantastic opportunity for this…..I am passionate about the subject I am studying, which is not only going to be my future career, but a big industry in the future!'
Mike is from America and

 has a degree in Political Science – International Relations & Modern Languages – French and Francophone Studies from Montana State University. He has had volunteer experience with Non-Profit Organizations in France, Luxembourg, Switzerland and worked as an 

English and French Teacher with the Atlas Cultural Foundation

​​

 

based in the High Atlas Mountain Range in Morocco, where he worked with village leadership and elders in community based projects which included the restoration of cultural buildings, developing and implementing safe hygiene practices, and participation of cultural events and celebration through cultural exchange. 
If you are interested in applying to be an IAC youth repr for 2019, please send a short 500 word mini CV about yourself and your involvement in community development, together with a brief statement about why you would like to become part of the IACD team representing the association at UN meetings in either New York and/or Geneva. This should be sent to IACD President, Paul Lachapelle paul.lachapelle@montana.eduPlease mark your e mail IACD UN Youth Rep application.
IACD VICE PRESIDENT AND CHAIR OF CERD SPEAKS AT UN ASSEMBLY
We reproduce here the statement made by Anastasia Crickley, IACD Vice President and CERD (Committee for the Elimination of Racial Discrimination), Chairperson  at the 72nd session of the General Assembly held in New York on 31st October, 2017.
Thank you for the opportunity to address you as Chairperson of the Committee for the Elimination of Racial Discrimination, to present CERD's report in accordance with General Assembly Resolution A/RES/71/180 of 19 December 2016, and engage with you in an interactive dialogue at this crucial and challenging time. In March this year, I already raised some of our major concerns when I addressed the General Assembly on the International Day against Racism and today I will return again to a number of those issues.
At the outset, friends, I want to say that I am alarmed that more than fifty years after you agreed unanimously to eliminate racial discrimination on purpose or in effect as article 1 of ICERD so clearly puts it, I need to stand here and speak again of the global toxic discourse which is fuelling and fanning the flames of racial discrimination throughout the world. I do so acknowledging the progress that has been made since ICERD was adopted in 1965 and came into force in 1969, in those dark days of apartheid in South Africa and US civil rights struggles.Apartheid has ended, civil rights were achieved, European Union Directives to protect against discrimination in its member States have been adopted, and the 178 countries which have ratified the ICERD, have put in place laws to address racism.
Yet, none of these are or could have been ends in themselves.Special measures as outlined in CERD's General Recommendation No. 32 are required to create the conditions for the social and economic access necessary for full rights realisation. Their absence continues to diminish the outcome of hard won gains and leave widening differentials between marginalised minorities and other sections of the population, underlining yet again the well-established poverty racism links.The European Union puts its priority focus on citizens but residents as well as citizens have the right to be free from racial discrimination whatever their status, however long or short their residency and whatever the means by which they arrived. The continued use of racism as a tool to pit our fears, and I speak as a European, against their rights may have short term political gains but is a recipe for further division and alienation and their consequences.
In CERD's work over the past year and in the events of the past few months it has been very clear yet again that the legacies of the early forms of racism and slavery remain intact and all too evident in discrimination against people of African Descent and Indigenous Peoples. The legacies of old and not so old colonialism continues to fuel discrimination against them and against other once colonised peoples.Racial profiling and incitement to hatred including in the context of migration which was the well discerned focus of both this Assembly's and the Human Rights Council's International Day against Racism events have been a major and growing concern for CERD during the past year. Racial profiling is addressed in virtually all concluding observations, rejected as the intention by all States, but quite clearly in a number of instances the effect of procedures attempting to protect national security.
These can be shown to be both expensive and ineffective and in addition can lead to dehumanising incitement particularly against migrants and those perceived to be from a particular background, nowadays often Muslim.Over the past year we have also noted a continuing trend towards sidestepping racism and calling it anything else besides what it is – a form of discrimination outlawed by the first UN Convention and thus with an international norm through which it can be addressed. Other terms including xenophobia, which as the Durban Declaration points out is a cause of racism today, have no such international norm and leave victims without redress. Moving from naming to addressing racism requires knowing its reach and extent again often sidestepped. Data is essential for this as with addressing any other issue and OHCHR guidelines on its collection protect the rights of those involved.While CERD acknowledges no hierarchies of oppression and treats each State we review without reference to any other it is clear that different forms of racism present very forceful and destructive faces at different times. Over the past year, we have noted that the toxic global discourse I spoke of at the outset has continued to blight the lives of many people perceived to be of Muslim background.
Let me now further elaborate a few of the issues, which have been continuously addressed in the Committee's work over the past year. Racial discrimination we know is complex and multi-faceted. One-size solutions do not fit all and in our experience unless the intersectionality with gender discrimination is addressed the particular and often sexualised forms of racism experienced by women and girls can be ignored.In the context of periodic reviews, the Committee drew the attention of States parties to human rights abuses of women belonging to minority groups and called on States parties to study the root-causes and to adopt targeted measures while integrating gender and ethnic perspectives. We also looked into the specific situation of women migrant workers and recommended to take measures to stop labour exploitation and abuse of migrant workers and in particular women domestic workers, and to enhance protection of these women against exploitation and abuse, including sexual abuse. Furthermore, we have paid particular attention to the situation of women migrants, including refugees, and called on States parties to improve the assistance to persons notably women migrants who require specific attention and protection measures, including victims of sexual and gender-based violence and victims of trafficking.
The Committee was glad to contribute to the multi-stakeholder initiative organised by UN Women on Strategies for addressing Women's rights in the Global Migration Compact.Armed conflict, impacts of climate change, poverty, and political instability continue to be among the leading factors pushing migration. While I am aware and appreciative of the generosity demonstrated by many countries to receive and host migrants seeking safe haven, one cannot turn a blind eye to the human rights abuses of migrants, whether these are inflicted by State or non-State actors, in the country of origin, transit or destination.
Practices reported to the Committee include arbitrary detention, hate speech, racial profiling, human trafficking for labour or sexual exploitation purposes, denial access to basic services such as shelter, as well as refoulement to countries where migrants may face persecution, threats to their physical integrity, or destitution, among others. Moreover, the lack of a firm denunciation of these practices by a margin of stakeholders, notably States, further contributes to increased vulnerability to rights violations by migrants. I call all States not to turn their back on people in most need of solidarity and urgent assistance.In the context of reports consideration, our Committee has repeatedly addressed the plight of migrants, including the fatalities caused during the migration route and the dire situation migrants encounter in host countries.
Notably, we have called on States parties to take effective measures to uphold the principle of non-refoulement without discrimination, to halt racist hate speech and violence against migrants and refugees including by border guards and other law enforcement officials, to hold accountable perpetrators and compensate victims, and to outlaw organizations including, political parties, that promote and incite racial discrimination. In this context, I wish to recall our Statement of September 2016 ahead of the New York Summit. The Committee has since been active in supporting the global compacts processes.With regard to minorities, the Committee continues to address the situation of Roma and Travellers, mostly but not only, in many European countries in its concluding observations.
While noting the EU Framework for National Roma Integration Strategies up to 2020, we remain concerned that in reality Roma in Europe continue to face prejudice, intolerance, discrimination and social exclusion in their daily lives and to live in very poor socio-economic conditions. The Committee is concerned that implementation of national Roma strategies in various countries lacked political will, were allocated inappropriate resources, and fell short of genuine consultation with the concerned Roma in the development, implementation and evaluation of such strategies.Over the past year, the Committee noted that Indigenous Peoples continue to suffer from the consequences of historic injustice, including colonization, dispossession of their lands, oppression and discrimination, as well as limited margin to maintain their own ways of life. We have called on States parties to address the issues faced by Indigenous Peoples in a comprehensive manner while ensuring genuine participation with them in the development and implementation of plans that concern them and complying with the principle of free, prior and informed consent.
The Committee frequently reflected in its jurisprudence the principles and rights echoed in the UN Declaration on the Rights of Indigenous Peoples (2007), and encouraged States parties who have not yet done so to endorse the Declaration.Friends,The concerns as I have outlined from the work of CERD remain unfortunately intact and the temptation to withdraw into a narrow identity, to reject the other continues to translate, among others, into the rise and the resurgence of the most extremist political parties. At a time when some political leaders either use hate rhetoric or fail to unequivocally condemn racist attacks and therefore send the message that these might, somehow, be tolerated if not legitimated, it is our collective and urgent responsibility to articulate and address these issues immediately and everywhere.In the last year, we have continued to call on States under review to adopt and implement legislation which prohibits officials from engaging in racial profiling, take special measures to eliminate it and avoid policies and programmes which can give rise to it.
Resolute action is required by all Governments, including the high-level politicians, not only to reject and condemn racist hate speech and racist crimes, to combat racial discrimination and xenophobia against refugees and migrants, among other groups, but also to actively contribute to the promotion of understanding, inclusiveness, and diversity between ethnic groups. This also requires efforts to foster social and economic environments where migrants and refugees are not just tolerated but treated as equals and fully integrated and included with the local population and their contributions to host societies fully acknowledged.As I have already indicated, 178 States are parties to the ICERD, five have signed the Convention but not yet ratified it. I am very pleased to report that on 10 January 2017, Sao Tome and Principe became the 178th States parties to the Convention.
Racial discrimination remains a very current concern in every country of the world. It essential to achieve universal ratification of the ICERD and I would like to seize this opportunity to call the 11 States, which have not yet done so, to accede to the Convention.Those, which have not ratified include Myanmar from where reports of egregious manifestations of racial discrimination towards the Rohingya people in Rakine State have been described by the UN High Commissioner for Human Rights and others as ethnic cleansing. The human rights violations, which are being committed against the Rohingya people have to be condemned by all who support human rights and reject racism.
I take this opportunity to publicly call on Myanmar to urgently ratify and implement the provisions of the Convention so that the framework it offers can be available to the State to immediately address such discrimination.Since the presentation of its last annual report, our Committee held three sessions and examined 20 reports, in which it commended States parties for their achievements and provided recommendations for the challenges identified in their respective reports as well as during the constructive dialogue with their delegations
. Under its follow up procedure, the Committee considered the reports of 12 States parties. We also examined situations of particular concern under the Early Warning and Urgent Action Procedure. This well-established procedure allows the Committee to address existing structural problems from escalating into conflicts, to respond to problems requiring immediate attention and to prevent or limit the scale or number of serious violations of the Convention.
Since the 91st session, 11 letters were sent and three decisions adopted under this procedure in relation to nine States. These letters and decisions mainly addressed situations where land rights of indigenous peoples were threatened or infringed, and human rights violations of persons belonging to minority groups, including excessive use of police force and arbitrary detention, which appeared to have an ethnic character, as well as hate speech and violence against notably migrants, refugees and peoples of African Descent.In line with GA resolution 68/268, the Committee continued to implement the simplified reporting procedure and adopted two lists of issues prior to reporting
. States parties whose reports were more than ten years overdue were prioritised, then this procedure was offered to States parties whose reports are more than five years overdue.
To date, only six States have agreed to be examined under the simplified reporting procedure. I encourage States parties to take full advantage of technical cooperation being offered by the OHCHR in building and enhancing their capacity to implement their treaty obligations. Furthermore, the Committee continued to strengthen its working methods, while looking at existing good practices of other treaty bodies, including by piloting the task force/co-rapporteurs working method. In the same collaborative spirit and bearing in mind that GA resolution No 68/268 called for increased harmonization of working methods by the treaty bodies, bilateral meetings were held with the Committee against Torture and the Committee on the Rights of Persons with Disabilities, with a view to exchanging experiences and exploring ways and means to strengthen collaboration and streamlining working methods. CERD played a significant role in ensuring that both the Decade and Working Group on People of African Descent were realised and we continue to support the work of both. We collaborate actively with the Special Mechanisms, particularly of course the Special Representative on Racism.Overall, as I said at the start, the Committee is concerned to deepen its engagement with all its stakeholders and particularly with States parties to the Convention.
This year, during the 92nd session, we held the fifth informal meeting with States parties to the Convention, entitled "ICERD in Today's World", seeking the views of States parties on key challenges they face in combatting racial discrimination and on the experiences in engaging with the Committee. During its 93rd session, we held a meeting with States parties with overdue initial and periodic reports with the aim of thinking together on how to best support States parties in this regard. Both meetings were very well attended. During its 91st session, the Committee held a very successful and well-attended seminar with civil society organisations, entitled "Joining hands to end racial discrimination", which sought to explore new and innovative ways to increase the implementation of the Convention. The seminar engaged successfully also through social media demonstrating its positive potential as well as its well noted negative consequences for addressing racism.
We are grateful for the ongoing engagement of civil society, which informs and enhances our work, and for their commitment to ensuring that racism is addressed and eliminated.In addition, CERD is grateful for the support of National Human Rights Institutions and provides space during state reviews for short presentations for NHRIs with A status under the Paris Principles. It receives their submissions and has continued to engage with them during the past year including through participation in the OHCHR/ GANHRI March workshop. The Committee has also actively engaged with the Sustainable Development Goals, both during their development, and now in the ongoing implementation.
Friends,Our Committee has deployed extensive efforts to support States in combating all forms of racial discrimination: hate speech, racial profiling have been discussed with delegations and included in virtually all our concluding observations. Comprehensive guidance has been provided to States, especially through General Recommendation No. 31 on the prevention of racial discrimination in the administration and functioning of the criminal justice system, General Recommendation No. 35 on combating hate speech and General Recommendation No. 30 on discrimination against non-citizens. The increasing number of letters and decisions addressed to States under CERD's Early Warning and Urgent Action Procedure go hand in hand with the renewed focus by the UN Secretary-General on prevention, as the Committee believes that its work under this procedure serves as alarm bells on potential triggers of conflict and calls for rapid respond to situations.As part of our ongoing role and to continue to combat the persistent efforts of those who seek to stigmatise and racially discriminate against segments of humankind.
On this note, I am happy to announce that on 29 November, the CERD will devote half a day of discussion on "Racial Discrimination in today's world: Racial profiling, ethnic cleansing and current global issues and challenges". Our discussions will mainly focus on the two issues, which I just highlighted: Racial profiling and ethnic cleansing. The success of this event will depend on your active participation and I would like to seize this opportunity to invite all of you to join us.Distinguished delegates,You will not be surprised that I need also to address the question of resources. Our collective capacity to address the challenges which I just described, to respond to the needs of the rights holders and to the legitimate expectations of States and civil society partners depends on the allocation of the resources that the human rights treaty bodies system requires. A failure to take on board the formula in Res 68/268 for future resource allocation would undermine even further a situation already very fragile.
This is why I strongly appeal on your sense of responsibility to address the current situation and to provide the Office of the United Nations High Commissioner for Human Rights with resources it requires to adequately support the Treaty Bodies.Delegates,At that start of my input I reminded us that more than 50 years after Sharpville and in spite of significant progress made, for which I commend you and all who have struggled to make it possible, a toxic global discourse is fanning the flames of racial discrimination in new and not so new ways towards new and old victims with those perceived to be Muslims, migrants and minority members particularly targeted. I outlined the Committee's concerns from our work during the year including with regard to racism towards migrants and those on the move, Indigenous Peoples, Roma and Travellers and concerning the resurgence of extremist political rhetoric and hate speech and the need for special measures and legislation and to address the intersectional complexities of racism for women and others. I also gave you some details of our activities.I again urge you to ensure that what is described as the war on terror does not become one of terrorising communities and that "our" fears are not put before "their" rights.
Finally, I take this opportunity to assure you of the Committee's continued determination to do its best to support the elimination of racial discrimination and call on you to take and give the global leadership needed now more than ever to ensure that racism is both named and addressed as a key barrier to a just sustainable and truly human worldLastly but and by no means leastly, I would like to address a special thanks to all the Geneva OHCHR staff who have supported the development of this intervention and who give so much to supporting CERD's work and to the Committee colleagues who give unstintingly of their time and expertise.
In 2016, IACD's President, Charlie McConnell and members met with one of the World Bank's Vice Presidents Annette Dixon to discuss the Bank's support for community-led development around the SDGs.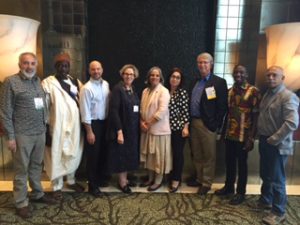 This is an article for IACD written by Annette Dixon.
Without Community Involvement, there is no Sustainable Development
By Annette Dixson
Jeyaranjini lives northern Sri Lanka near the city of Kilinochchi with her husband and daughter. During the Sri Lankan civil war, the family was forced to move many times and had to live in refugee camps under difficult circumstances.
The North East Local Services Improvement Project (NELSIP) is helping Jeyaranjini and her family rebuild their lives through a Community Driven Development (CDD) approach. She participates in a group to decide how to allocate local development funds based on their needs. "Each community member used to be alone, but now we learn, exchange ideas, and make decisions together. I am more confident and inspired." The project has helped build 611km of roads, 23 km of storm drains, 400 community public spaces such as markets, parks, and playgrounds, as well providing improved access to water and electricity.
Projects incorporating CDD approaches give control over planning and investments to community groups and local governments rather than central governments. They can be a useful instrument for empowering communities to deliver services to the poor and vulnerable. Its principles can be applied to toward the realization of the 17 Sustainable Development Goals (SDGs), which promote sustainable economic, social, and environmental development. SDGs are the new road map for governments and the international development community to engage and achieve on development issues through 2030.
South Asia has a strong tradition for local participation. For example, Nepal's Self Governance Act in 1999 decentralized responsibilities for the delivery of education, health, drinking water, irrigation, forestry, and agriculture to the village and district levels.  In Afghanistan, village Shuras (councils) receive funds and other support from the state, which they then manage to support their villages. CDD has proven useful in responding to conflict and fragility, and in post-disaster contexts, as it has shown to be fast, flexible and effective at re-establishing basic services. In fragile or conflict affected states (FCS), the approach has also helped rebuild social capital and trust within communities, and between communities and governments. The World Bank has been building on these foundations through currently supporting 33 CDD projects worth $5.5 billion in South Asia, and or including 18 projects in India worth $3.7 billion.
Transformational Community Driven Development Projects for the Future
For example, the government of India has launched an ambitious $22 billion program – the Swachh Bharat Mission – to achieve universal access to sanitation and make the country open defecation free by 2019. The World Bank is supporting it with a $1.5 billion loan and technical assistance. Open defecation is a serious issue in India: one in every 10 deaths in the country is linked with poor sanitation and hygiene; about 38% of all children under five years old are stunted and half of these are due to poor sanitation and open defecation. But success of the program will only be possible if there is large-scale social mobilization for behavior change.  Lessons learned from earlier programs led to a shift from the program's emphasis on the physical construction of toilets – the less effective assumption of only "if you build it, they will use it" approach of the past – to also changing people's habits and behaviors in order to trigger and sustain the usage of toilets and promote safe sanitation and hygiene practices. The program taps into community leaders to serve as role models through training them on behavior change approaches, tools, techniques and monitoring. Knowledge and experience sharing across communities are being introduced and is helping replicate and expand innovative and successful approaches.
Another example is the Central Asia-South Asia Electricity Transmission and Trade Project, known as CASA-1000, which the World Bank is supporting along with other development partners. The project will help facilitate electricity trade between countries in Central Asia – Tajikistan and Kyrgyz Republic – that have hydropower surplus and countries in South Asia – Afghanistan and Pakistan – that are facing electricity shortages.
Governments have also investing in Community Support Programs to build support for the project in affected communities. Making local communities stakeholders in the project will be important for the project's success.  The program is  helping share the benefits of building the transmission line and expanding electricity trade with people living along a four-kilometer wide "Corridor of Influence." The goal is for half of all communities within the Corridor of Influence to receive improved access to electricity and for at least 65% of the direct beneficiaries of these community-focused sub-projects to be women.
In Tajikistan and Kyrgyz Republic, the Community Support Programs will help households cope with severe winters and in Afghanistan they will help some communities receive access to electricity for the first time. All four countries have committed to contributing a portion of their electricity trading revenues to community programs.
Inclusive and Equitable Representation are Necessary for Success
Inclusive and equitable representation of interests within the community is critical for success. There are also some risks associated with community development but can be minimized. Development decisions can be biased by local, unrepresentative interests, and elite capture. As an example of the development power of inclusive community participation, India introduced quotas for women to serve on village councils as members and leaders, and several studies show important positive impacts from this action. For example, the quotas were found to be associated with the growth in new female income-generating activities in household manufacturing. Female council leadership was found to balance investments away from roads, which men preferred, to water infrastructure, which women preferred. Community exposure to women council leaders was found to improve community attitudes towards women, including views on female leadership effectiveness.  Female council leadership was also found to be associated with improved child survival, adolescent girls' education attainment, and child academic test scores.
The World Bank will continue to support CDD projects to help address a variety of urgent needs, including water supply and sanitation, education and health needs, nutrition programs for mothers and infants, rural access roads, and support for micro-enterprises, among others. Incorporating CDD approaches in projects and programs will likely increase their success and thus accelerate progress toward the achievement of the SDGs. As experience and evidence suggest, there simply cannot be sustainable development without community involvement.
Community development and the U.N.
The U.N. has long pioneered and supported community development and IACD has been supporting and influencing its work since 1953. Below are the main UN programmes and agencies IACD might work with. Currently our main focus is around the Sustainable Development Goals (SDGs) agenda.
UNDP
The United Nations Development Programme works in nearly 170 countries and territories, helping to eradicate poverty, reduce inequalities and build resilience so countries can sustain progress. As the UN's development agency, UNDP plays a critical role in helping countries achieve the Sustainable Development Goals.
UNICEF
The United Nations Children's Fund provides long-term humanitarian and development assistance to children and mothers.
UNHCR
The United Nations High Commissioner for Refugees – UNHCR protects refugees worldwide and facilitates their return home or resettlement.
WFP
The World Food Programme aims to eradicate hunger and malnutrition.  It is the world's largest humanitarian agency. Every year, the programme feeds almost 80 million people in around 75 countries.
UNEP
The United Nations Environment Programme established in 1972, is the voice for the environment within the United Nations system. UNEP acts as a catalyst, advocate, educator and facilitator to promote the wise use and sustainable development of the global environment.
UNRWA
The United Nations Relief and Works Agency for Palestine Refugees has contributed to the welfare and human development of four generations of Palestine refugees. It's services encompass education, health care, relief and social services, camp infrastructure and improvement, microfinance and emergency assistance, including in times of armed conflict.  It reports only to the UN General Assembly.
UN Women
UN Women merges and builds on the important work of four previously distinct parts of the UN system, which focus exclusively on gender equality and women's empowerment.
UN-Habitat
The mission of the United Nations Human Settlements Programme is to promote socially and environmentally sustainable human settlements development and the achievement of adequate shelter for all.
UN Specialized Agencies
World Bank
The World Bank focuses on poverty reduction and the improvement of living standards worldwide by providing low-interest loans, interest-free credit, and grants to developing countries for education, health, infrastructure, and communications, among other things. The World Bank works in over 100 countries.
WHO
The World Health Organization is the directing and coordinating authority on international health within the United Nations system. The objective of WHO is the attainment by all peoples of the highest possible level of health. Health, as defined in the WHO Constitution, is a state of complete physical, mental and social well-being and not merely the absence of disease or infirmity.
UNESCO
The United Nations Educational, Scientific and Cultural Organization focuses on everything from teacher training to helping improve education worldwide to protecting important historical and cultural sites around the world. UNESCO added 28 new World Heritage Sites this year to the list of irreplaceable treasures that will be protected for today's travelers and future generations.
ILO
The International Labor Organization promotes international labor rights by formulating international standards on the freedom to associate, collective bargaining, the abolition of forced labor, and equality of opportunity and treatment.
FAO
The Food and Agriculture Organization leads international efforts to fight hunger. It is both a forum for negotiating agreements between developing and developed countries and a source of technical knowledge and information to aid development.
IFAD
The International Fund for Agricultural Development, since it was created in 1977, has focused exclusively on rural poverty reduction, working with poor rural populations in developing countries to eliminate poverty, hunger and malnutrition; raise their productivity and incomes; and improve the quality of their lives.
UNAIDS
The Joint United Nations Programme on HIV/AIDS is co-sponsored by 10 UN system agencies: UNHCR, UNICEF, WFP, UNDP, UNFPA, UNODC, the ILO, UNESCO, WHO and the World Bank and has ten goals related to stopping and reversing the spread of HIV/AIDS.
UNISDR
The United Nations Office for Disaster Reduction serves as the focal point in the United Nations system for the coordination of disaster reduction.
IOM
The International Organization for Migration works to help ensure the orderly and humane management of migration, to promote international cooperation on migration issues, to assist in the search for practical solutions to migration problems and to provide humanitarian assistance to migrants in need, including refugees and internally displaced people.