IACD has consultative status with the United Nations.
This means that we participate in meetings and consultations, to be kept in touch with and contribute to latest thinking about development issues.  Since 2014 our priority has been around the UN Sustainable Development Goals. We attended several INGO consultations and were at the UN in 2015 and 2016 for the publication of the SDG targets and for the High Level Political Forum, where we organised a full house official Side Event on the theme of community development and the SDGs.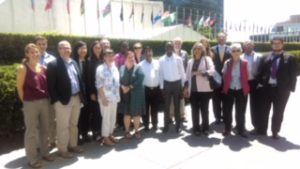 IACD members outside the UN in New York during the High Level Political Forum on the SDGs, July 2016.
Over the next three years IACD plans to have a presence at appropriate UN events related to progressing the SDGs. Our focus being to raise the profile of the importance of community development practice and scholarship in both strengthening the capacity of vulnerable communities, but also of enhancing governmental, non-governmental and business sector expertise as listening to and engaging with local communities and communities of interest and identity. This is the key timeline (2015-2019) for SDG gatherings at the UN is:
2019. Empowering people and ensuring inclusiveness and equality.
2018 . Transformation towards sustainable and resilient societies.
2017. Eradicating poverty and promoting prosperity in a changing world.
2016. Ensuring that no one is left behind
2015. Strengthening integration, implementation and review – the HLPF after 2015
Our work linking with the UN is led by Board members Anastasia Crickley, from Ireland and Tony Kimbowa from Uganda, together with New York based members Esther Farmer and Randy Adams (Past Vice President) and John Stansfield from New Zealand. The IACD President, Paul Lachapelle, is an ex officio member of this committee. Anastasia chairs IACD's International Relations Committee.
WE ARE LOOKING FOR TWO YOUNG IACD MEMBERS TO JOIN OUR U.N. REPRESENTATION TEAM
IACD is looking to appoint two members (between 18-32) to join our team of volunteer representatives able to attend UN NGO consultation meetings in New York. To be considered as a rep you must be an IACD member, able to attend meetings in New York and/or Geneva and able to commit time to being part of our team of volunteer members who attend UN-NGO gatherings and consultations.
IACD is unable to pay our member reps to attend these meetings, but it would be a rewarding experience for younger members keen to experience more about the workings of the UN and to represent the interests of IACD members at these meetings.
Young IACD members at the UN in 2015
If you are interested, please send a short 500 word mini CV about yourself and your involvement in community development, together with a brief statement about why you would like to become part of the IACD team representing the association at UN meetings in either New York and/or Geneva. This should be sent to IACD President, Paul Lachapelle paul.lachapelle@montana.edu
Please mark your e mail IACD UN Youth Rep application.
Other international bodies we engage with include the World Bank.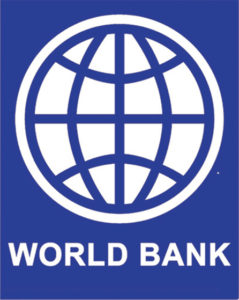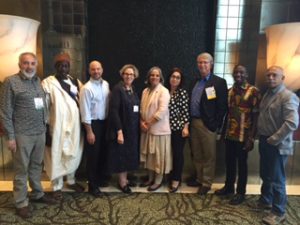 In 2016, IACD's President, Charlie McConnell and members met with one of the World Bank's Vice Presidents Annette Dixon to discuss the Bank's support for community-led development around the SDGs.
This is an article for IACD written by Annette Dixon.
Without Community Involvement, there is no Sustainable Development
By Annette Dixson
Jeyaranjini lives northern Sri Lanka near the city of Kilinochchi with her husband and daughter. During the Sri Lankan civil war, the family was forced to move many times and had to live in refugee camps under difficult circumstances.
The North East Local Services Improvement Project (NELSIP) is helping Jeyaranjini and her family rebuild their lives through a Community Driven Development (CDD) approach. She participates in a group to decide how to allocate local development funds based on their needs. "Each community member used to be alone, but now we learn, exchange ideas, and make decisions together. I am more confident and inspired." The project has helped build 611km of roads, 23 km of storm drains, 400 community public spaces such as markets, parks, and playgrounds, as well providing improved access to water and electricity.
Projects incorporating CDD approaches give control over planning and investments to community groups and local governments rather than central governments. They can be a useful instrument for empowering communities to deliver services to the poor and vulnerable. Its principles can be applied to toward the realization of the 17 Sustainable Development Goals (SDGs), which promote sustainable economic, social, and environmental development. SDGs are the new road map for governments and the international development community to engage and achieve on development issues through 2030.
South Asia has a strong tradition for local participation. For example, Nepal's Self Governance Act in 1999 decentralized responsibilities for the delivery of education, health, drinking water, irrigation, forestry, and agriculture to the village and district levels.  In Afghanistan, village Shuras (councils) receive funds and other support from the state, which they then manage to support their villages. CDD has proven useful in responding to conflict and fragility, and in post-disaster contexts, as it has shown to be fast, flexible and effective at re-establishing basic services. In fragile or conflict affected states (FCS), the approach has also helped rebuild social capital and trust within communities, and between communities and governments. The World Bank has been building on these foundations through currently supporting 33 CDD projects worth $5.5 billion in South Asia, and or including 18 projects in India worth $3.7 billion.
Transformational Community Driven Development Projects for the Future
For example, the government of India has launched an ambitious $22 billion program – the Swachh Bharat Mission – to achieve universal access to sanitation and make the country open defecation free by 2019. The World Bank is supporting it with a $1.5 billion loan and technical assistance. Open defecation is a serious issue in India: one in every 10 deaths in the country is linked with poor sanitation and hygiene; about 38% of all children under five years old are stunted and half of these are due to poor sanitation and open defecation. But success of the program will only be possible if there is large-scale social mobilization for behavior change.  Lessons learned from earlier programs led to a shift from the program's emphasis on the physical construction of toilets – the less effective assumption of only "if you build it, they will use it" approach of the past – to also changing people's habits and behaviors in order to trigger and sustain the usage of toilets and promote safe sanitation and hygiene practices. The program taps into community leaders to serve as role models through training them on behavior change approaches, tools, techniques and monitoring. Knowledge and experience sharing across communities are being introduced and is helping replicate and expand innovative and successful approaches.
Another example is the Central Asia-South Asia Electricity Transmission and Trade Project, known as CASA-1000, which the World Bank is supporting along with other development partners. The project will help facilitate electricity trade between countries in Central Asia – Tajikistan and Kyrgyz Republic – that have hydropower surplus and countries in South Asia – Afghanistan and Pakistan – that are facing electricity shortages.
Governments have also investing in Community Support Programs to build support for the project in affected communities. Making local communities stakeholders in the project will be important for the project's success.  The program is  helping share the benefits of building the transmission line and expanding electricity trade with people living along a four-kilometer wide "Corridor of Influence." The goal is for half of all communities within the Corridor of Influence to receive improved access to electricity and for at least 65% of the direct beneficiaries of these community-focused sub-projects to be women.
In Tajikistan and Kyrgyz Republic, the Community Support Programs will help households cope with severe winters and in Afghanistan they will help some communities receive access to electricity for the first time. All four countries have committed to contributing a portion of their electricity trading revenues to community programs.
Inclusive and Equitable Representation are Necessary for Success
Inclusive and equitable representation of interests within the community is critical for success. There are also some risks associated with community development but can be minimized. Development decisions can be biased by local, unrepresentative interests, and elite capture. As an example of the development power of inclusive community participation, India introduced quotas for women to serve on village councils as members and leaders, and several studies show important positive impacts from this action. For example, the quotas were found to be associated with the growth in new female income-generating activities in household manufacturing. Female council leadership was found to balance investments away from roads, which men preferred, to water infrastructure, which women preferred. Community exposure to women council leaders was found to improve community attitudes towards women, including views on female leadership effectiveness.  Female council leadership was also found to be associated with improved child survival, adolescent girls' education attainment, and child academic test scores.
The World Bank will continue to support CDD projects to help address a variety of urgent needs, including water supply and sanitation, education and health needs, nutrition programs for mothers and infants, rural access roads, and support for micro-enterprises, among others. Incorporating CDD approaches in projects and programs will likely increase their success and thus accelerate progress toward the achievement of the SDGs. As experience and evidence suggest, there simply cannot be sustainable development without community involvement.
Annette Dixon is a World Bank Vice President