Engaging with and trying to influence the global public policy agenda is a central role of IACD and holding position statements is an integral part of our work.  In 2017 the Board decided to merge its Policy and International Relations Committees, but to retain their remits.  The committee consults members on the development of a policy position and advocates for our policy position in international arenas such as the U.N.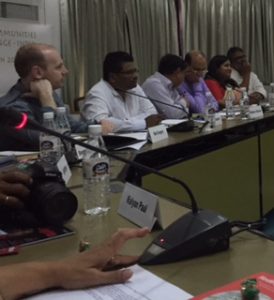 The Committee is responsible for overseeing the development of IACD's position statements on subjects of relevance to the community development field. In addition, the Committee will also explore opportunities for organising events relating to public policy development and expanding our policy-related activities at national, regional and international level.
In the period from 2016-20 the Committee will focus upon three priorities:
enhancing the voice and expertise of grassroots communities and community development agencies in delivering the UN's Sustainable Development Goals;
enhancing the quality of training and continuing professional development support for community development workers at fieldwork and management levels;
convincing the governments, inter-governmental bodies and non-governmental funders, of the multiplier value of the investment in community development programmes and in the networking of practitioners, in terms of realising more active, empowered and skilled local communities.
For the coming year 2017/18 the Committee shall:
1 continue to build awareness of the SDGs and their potential for practice among
community development workers, practitioners and organisations
2 develop IACD's strategy for ongoing work on and critique of the SDGs and their
implementation
3 engage with appropriate international UN civil society coalitions working on the
SDGs towards strengthening our contribution to the High Level Forum and other
instruments monitoring their implementation
4 identify and begin to work with a small number of relevant global interests of members
5 develop relations with the UN civil society sections responsible for CD related issues
Membership consultation is an integral part of developing a new policy statement.  If you are interested in joining this committee, please contact the IACD President at info@iacdglobal.org
For more information about the roles and responsibilities of the Policy Committee, please click here and to download the detailed description of the position statement development process click here.
 IACD is looking to appoint two members (between 18-32) to join our team of volunteer representatives able to attend UN NGO consultation meetings in New York and/or Geneva. To be considered as a rep you must be an IACD member, able to attend meetings in New York and/or Geneva and able to commit time to being part of our team of volunteer members who attend UN-NGO gatherings and consultations.
IACD has six member representatives at the UN. Currently these are Paul Lachapelle, IACD President, Anastasia Crickley, IACD VP and current chair of the UN Committee on Racial Discrimination, Tony Kimbowa, who works at the UN, Randy Adams, Esther Farmer and John Stansfield.
IACD is the only global network for professional community development practitioners. We are accredited with the UN and have members across the world.  http://www.iacdglobal.org/
IACD's overall strategy at the U.N. is to:
Continue to profile the contribution of community development towards addressing the U.N. SDGs (Sustainable Development Goals);
Develop IACD's strategy for ongoing work on the SDGs and their implementation;
Engage with appropriate international UN civil society coalitions working on the SDGs towards strengthening our contribution to the High-Level Forums and other instruments monitoring their implementation;
Develop further our relations with the UN sections responsible for community development.
Scope of Work:
Determining which organizations at the UN are important for IACD to make contact with.
Assessing which UN meetings are important to attend.
Attending those meetings and networking for IACD
Working to raise IACDs profile at the UN
Communicating to IACD members the relevant issues at the UN.
Preparing written reports on issues we may want to weigh in on.
Liaison with the other UN IACD reps
IACD is unable to pay our member reps to attend these meetings, but it would be a rewarding experience for younger members keen to experience more about the workings of the UN and to represent the interests of IACD members at these meetings. IACD's other UN reps will be available to provide mentoring and other support for our youth representatives.
If you are interested, please send a short 500 word mini CV about yourself and your involvement in community development, together with a brief 100 word statement about why you would like to become part of the IACD team representing the association at UN. This should be sent to IACD President, Paul Lachapelle paul.lachapelle@montana.edu no later than 20th December 2017.
Please mark your e mail IACD UN Youth Rep application.
THE 20th UN YOUTH ASSEMBLY at THE UN HEADQUARTERS, New York, August 2017 
Tony Ssembatya Kimbowa,
IACD Delegate to the UN-New York
On 9th August 2017, the 20th Summer Youth Assembly kicked off, with the theme "Society for All: Equity and Inclusion for a Sustainable Future." In attendance were over 1000 youth from 110 countries, all passionate about contributing to a more peaceful, equal, and environmental friendly society. The UN considers this to be the largest and most interconnected youth population in history. While young people are among those constantly affected by global challenges, they remain at the forefront of innovation and change with their unique set of skills and perspectives. Their participation, therefore, is fundamental to addressing the world's most pressing issues, such as poverty, injustice and climate change.
There were several workshops conducted, presentations made and mentorship sessions held. These were all centered on the 2030 UN Agenda for Sustainable Development with the principle of "leaving no one behind". The gathering provided an avenue for discussion, engagement and interaction on different initiatives Youth are engaged with in their communities. Many of the Youth in attendance have founded grassroots initiatives mainly in their home countries and are agents of change. I was greatly moved by the awardees of this 20th Session of the Youth Assembly. From a young Liberian who led the anti Ebola fight, to a Yemeni who is raising awareness on the need for education, to a Ghanaian who has founded an initiative aimed at raising awareness on mental illness in his community, one could easily notice their involvement with the grassroots communities and effecting change from their won settings, depending on the needs of their respective societies.
The gathering was centred on four interrelated tracks-social, economic, environmental and youth, all geared at creating more space for dialogue, partnership and collaboration in driving inclusive and sustainable development at both local and global scenes. I could confidently say, the Youth are working at building bridges and shaping communities and a society that is inclusive for all.