Engaging and trying to influence the global public policy agenda is a central role of IACD and holding position statements is an integral part of our work. The IACD Policy Committee consults members on the development of a policy position and the IACD International Committee advocates for our policy position in international arenas such as the U.N..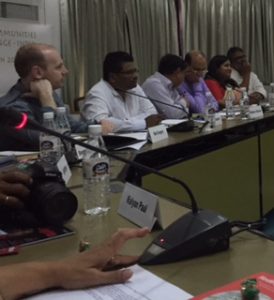 The Policy Committee is responsible for overseeing the development of IACD's position statements on subjects of relevance to the community development field. In addition, the Committee will also explore opportunities for organising events relating to public policy development and expanding our policy-related activities at national, regional and international level.
In 2015-16 the Committee focussed upon three priorities:
enhancing the voice and expertise of grassroots communities and community development agencies in delivering the UN's Sustainable Development Goals;
enhancing the quality of training and continuing professional development support for community development workers at fieldwork and management levels;
convincing the governments, inter-governmental bodies and non-governmental funders, of the multiplier value of the investment in community development programmes and in the networking of practitioners, in terms of realising more active, empowered and skilled local communities.
Membership consultation is an integral part of developing a new policy statement.  If you are interested in joining this committee, please contact the IACD President at info@iacdglobal.org
For more information about the roles and responsibilities of the Policy Committee, please click here and to download the detailed description of the position statement development process click here.