IN 2018 IACD WILL BE 65 YEARS OLD
2018 is our 65th anniversary year and we want to use this to highlight the importance of community development around the world. We'd like all IACD members to join us by adding our anniversary logo (above) to any community development events/festivals etc that you are planning for 2018. Let us together make 2018 Community Development Year!
At its last meeting the IACD Board confirmed that it wanted members to be encouraged to add the IACD birthday logo to your activities next year.  So let's all raise the profile of community development together.
The International Association for Community Development was established in 1953 in the USA
In the early days we worked closely with the United Nations on developing its policies and programmes. IACD became a UN accredited INGO.
http://unesdoc.unesco.org/images/0017/001797/179726eb.pdf
See also this fascinating global review of community development by UNESCO, published in 1954 http://unesdoc.unesco.org/images/0006/000611/061170eo.pdf
The United Nations defined community development, in the post war period, as 'a process designed to create conditions of economic and social progress for the whole community with its active participation', In the first instance, the aim was to promote integrated development and self-reliance, especially focusing upon rural communities, with the subsequent addition of programmes geared towards urban communities.
In the 1950s much of IACD's membership and focus was upon policy and practice in post-colonial countries, but from the mid 1960s its membership increasingly attracted community developers working within developed countries, especially around anti poverty programmes such as the War on Poverty in the USA and the Urban Programme in the UK. Members of the association were also involved with the setting up of the international Community Development Journal in 1967. Marj Mayo,former  IACD and CDJ Board member reflects upon these early years in this film http://www.youtube.com/watch?v=tuchj3cXRWc
The Association moved its HQ to Belgium in 1978
IACD began to expand its membership in francophone countries. It started publishing its own Journal called Comm, managed the Community Work Training Clearing House in the 1970s and 80s and provided small grants to local community development on behalf of the Belgian Overseas Development Ministry. Prof Rudolph Rezsohazy, from Hungary, served as President of IACD for over much of this period, with Pierre Rozen its Secretary General.
From the early 1990s there was a growing concern amongst some members, that IACD tended to represent more traditional paradigms of community development work, and had not really embraced the community organising and radical community education practitioners (Alinsky, Freire et al). This led to growing calls to open up the Board more to its members and to encouraging community organising and community education practitioners to join. This came to a head at IACD's conference in South Africa in 1997 when new members were elected to the Board, which then decided to move the association from Belgium to Scotland, with a new Secretariat.
IACD moved its HQ to Scotland in 1998
Following the 1997 conference  the IACD Board of Directors was restructured and reformed to ensure more democratic control of the organisation by its members through a directly elected Board. Charlie McConnell, a member of the Board since 1989 and prime mover behind these moves, agreed to house IACD at the Scottish Community Education Council in Edinburgh, Scotland where he was CEO. Charlie took over the role of Secretary General. Gary Craig, past editor of CDJ, who joined the Board at the South Africa conference, was the first President of the relaunched IACD.
The association was relaunched in 1999, at an international conference held in Edinburgh, Scotland and registered in Scotland as a charity and a company limited by guarantee. With the move and relaunch, there began a recruitment campaign to get new members to join from across the world. This film was made in the mid 2000s highlighting the work we were doing https://www.youtube.com/watch?v=90yGW-W3YDc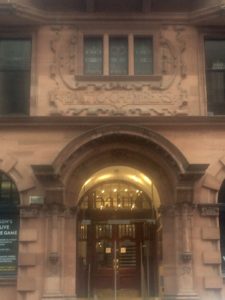 IACD's HQ in Glasgow, Scotland
The new IACD has been supported by a number of important partners since 1998. The Scottish Community Education Council gave critical financial support in the early days, and it was at this time that IACD re-built a closer partnership again with Community Development Journal (CDJ) and the two organisations have continued to collaborate closely.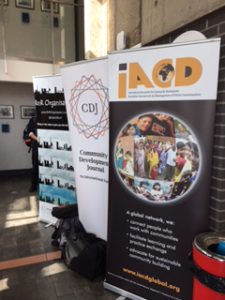 From 2004-12 financial support from the Scottish-based Carnegie UK Trust, where Charlie McConnell had moved as CEO, enabled IACD to employ staff. In 2012, Stuart Murdoch, IACD's then Vice President, secured core funding support from the Scottish Government, which goes part of the way towards sustaining the organisation's activities. The association's operations are also funded by way of membership fees and income from conferences, Practice Exchange programme and publications. The association has also secured funds from other grant making foundations and agencies since being in Scotland for one off initiatives.
From its 'rebirth' in Scotland, the association has been focused on promoting, advocating for and facilitating learning and exchange about community development practice in both developed and developing countries. Scotland has long had an internationalist outlook as a country and its government is keen to be seen as a 'Country Champion' for community development around the world. Domestically Scotland has a longstanding history of support from governments, local authorities and non-governmental organisations for community development going back to the early 1970s.
Since moving its HQ to Scotland, IACD has had five Presidents – Gary Craig (UK), Alex Ruhunda (Uganda), Ingrid Birkett (Australia), Charlie McConnell (UK) and Paul Lachapelle (USA).
Key to our work over the past twenty years has been the close partnerships we have developed with national community development associations and networks.
Most years, IACD organises  international conferences for members in collaboration with national community development network host partners, including events in Thailand, South Africa, the Middle East, New Zealand, India, Hungary, Cameroon, Hong Kong China, Nigeria, Canada, Australia, the USA, UK and Portugal. In 2016 IACD held a roadshow of partnership conferences and roundtable events on the contribution that community development can make towards the UN Sustainable Development Goals agenda. In all of our activities IACD is keen to partner with national community development associations and networks ranging from the Scottish Community Development Network, to the US Community Development Society, the Aotearoa Community Development Association, to the Hungarian Association for Community Development and many more.
In 2011 we launched our continuing professional development support Community Leadership Programme  and Practice Exchanges, the most recent of which took place in 2016 in India and Nepal.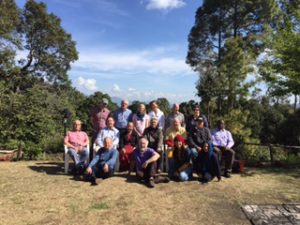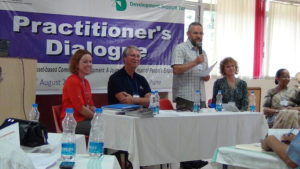 Practice Exchanges provide opportunities for smaller groups of community developers from around the world to visit field projects and meet with local community developers and activists in situ over several days. As well as providing space for sharing practice and learning, IACD programs and conferences have enabled community development practitioners, activists, researchers and decision makers to come together to articulate a common vision, an example being that of supporting an international community of practice of rural community developers and of practitioners engaged in Asset-based community development.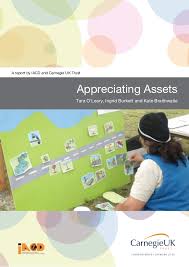 Our collaboration with the Carnegie UK Trust and the FierySpirits Community of Practice enabled us to gather and share learning around asset based approaches to community development. 'Appreciating Assets', that highlights the global roots of assets approaches and some of the work being done to harness and build on various forms of community 'capital'. Complementing this was our work with the Indigo network, from 2010-2012, which aimed to support people out of poverty by encouraging individuals and communities to build their financial assets.
In 2012, we  launched our magazine Practice Insights.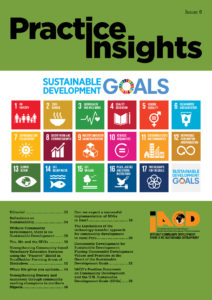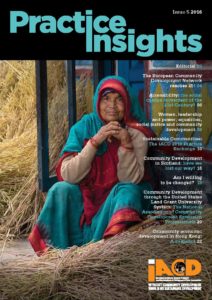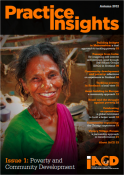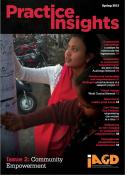 Practice Insights provides an opportunity for members and invited writers to share their work. We have published special issues on such themes as poverty, empowerment and most recently the contribution of community development in addressing the SDGs. We have also collaborated with the Community Development Journal in Special Issues, publishing more detailed research papers about community development around the world.
IACD has since its earliest days engaged in policy advocacy, including helping to shape UN policy.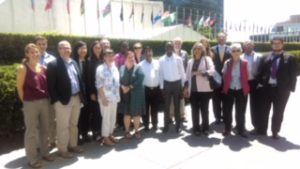 In 2000 we published our first Position Statement since IACD was relaunched in Scotland, this was on Globalisation, Migration and Social Development. In 2004, we produced the Budapest Declaration, a common statement on community development in Europe, directed to the EU, national governments and other key stakeholders in Europe. A similar Declaration was issued for Africa in 2006 and in 2009 for Oceania where following our Brisbane conference, we produced a shared statement of intent to rethink current systems and work towards building community centred economies.
We have advocated for community development principles and practices in forums such as the UN World Summit for Social Development, where we co-chaired the session on community development; the UN's 2009 conference on Promotion of South-South Cooperation for Development, in Nairobi, Kenya; the 2010 High Level Dialogue on Financing for Development in New York.  IACD was a strong supporter of the Millennium Development Goals.  In 2015 we advocated around the role community development must play in relation to vulnerable communities and climate change in the lead up to the UN Paris conference. And most recently IACD played an active part in the NGO consultations around the Sustainable Development Goals and participated in the 2016 SDG High Level Political Forum.
In 2016 published a new Global Definition for community development following consultation with members.
Community development is a practice-based profession and an academic discipline that promotes participative democracy, sustainable development, rights, economic opportunity, equality, and social justice, through the organisation, education, and empowerment of people within their communities, whether these be of locality, identity, or interest, in urban and rural settings.
Our thanks to the Scottish Government for their support towards our core services.