IACD runs international conferences every one or two years. These are international or global regional conferences, intended to bring community development practitioners, students, trainers from around the world together to share experiences and to hear some of the world's top experts in our field.
Our 2018 World Community Development conference will be in Ireland, in partnership with Community Work Ireland.
Join us for IACD's 65th anniversary conference celebrating community development around the world.
Please contact info@wcdc2018.ie  to register and not the IACD office
Submit a Proposal
WCDC2018 will feature both submitted and invited sessions that address community development and its concerns for academics, practitioners, policy makers and stakeholders at all levels of experience.
The organising group of WCDC2018 welcomes abstracts and proposals for oral presentations, practice workshops, poster presentations, film screenings and visual arts responses which are reflective of the overall conference focus and related to one of the conference themes.
Proposals should relate to community development practice, processes and problems. If proposals are developed from disciplines other than community development, a clear connection must be made with community development. WCDC2018 encourage submissions from a wide range of perspectives and participants, both globally and thematically.
The working language of the conference will be English. If participants require language assistance please note this in your proposal.
The deadline for submission of all proposals is 17.00 GMT, September 30th 2017.
In order to facilitate maximum time for preparation, the peer review group is committed to informing applicants of the outcome of the peer review process as soon as possible after that date.
Arts and cultural events
WCDC 2018 hope to offer conference attendees with a broad range of cultural activities and arts events throughout the duration of the conference. Ireland is renowned for our vibrant arts and culture and we hope to provide you with a rich snapshot of what our country has to offer, including;
Music
Literature
Visual arts
Design
Politics
History
Please bear with us while we update the list of arts and cultural events.
Location and Travel
The World Community Development Conference 2018 will be hosted in the National University of Maynooth, Co Kildare, Ireland. Maynooth University is located in the heart of the historic town of Maynooth, which is Ireland's only university town.
National University of Ireland Maynooth
Maynooth
Co Kildare
Ireland
NUI Maynooth website: https://www.maynoothuniversity.ie/
View the campus in more detail here
Travelling from Dublin Airport
Maynooth lies just 33km south-west of Dublin Airport, around 40 minutes travel time by car.
Over 50 airlines operate from 170 destinations to Dublin Airport, with up to 600 flights per day.
Visit the Dublin Airport website for flight details.
The Airport Hopper is a daily shuttle bus service to and from Dublin Airport. For further information and timetables access their website.
By car
Maynooth is situated 25km from Dublin city centre. Take junction 7 (signposted Maynooth/Straffan/Naas) off the M4 and follow the signs to Maynooth.
Turn left in the centre of the town and the gates to the South Campus are directly ahead of you. To reach the North Campus, take the left in the centre of the town, then turn right, take the next left and the entrance is on your right.
By bus
Dublin Bus
Maynooth is served by two Dublin Bus routes – the 66 and the 67. Both of these buses depart from Merrion Square in Dublin and run frequent services to the town. The 66x is an express service.
Both bus routes are the same until they reach Lucan; from here the 66 travels to Maynooth via Leixlip, and the 67 via Celbridge​.
See the Dublin Bus website for full details.
Bus Éireann
Bus Éireann operates daily services from: Athlone, Ballina, Galway, Longford, Mullingar, Sligo, Tuam and Westport.
See the Bus Éireann website for more details.
By rail
Maynooth lies on the Western Suburban railway line which serves the four Dublin city centre stations (Pearse Station, Tara St, Connolly Station and Docklands) as well as twelve other suburban stations; Drumcondra, Broombridge, Ashtown, Navan Rd. Parkway, Castleknock, Coolmine, Clonsilla, Hansfield, Dunboyne, M3 Parkway, Leixlip Confey and Leixlip Louisa Bridge, making it a quick and convenient way to get to Maynooth University.
This railway line also serves: Sligo, Collooney, Ballymote, Boyle, Carrick-on-Shannon, Dromod, Longford, Edgeworthstown, Mullingar, Enfield, Kilcock.
The South Campus is approximately five minutes walk from Maynooth train station and the North Campus approximately ten minutes walk.
Visit the Irish Rail website for train times.
Journey Plan App
The National Transport Authority announced that its Journey Plan App, has seen close to 300,000 downloads (288,554) since its 2012 launch. The free App gives users instant access, on their smartphone or tablet, to timetable and map information for all licensed public transport providers across all of Ireland, with Real Time travel information for Dublin Bus and Bus Éireann services. Journey Plan is Ireland's only one-stop travel planning App, providing bespoke plans for trains, buses, trams, ferry, and taxi services across Ireland and combining them into easy-to-read journey plans. The App provides door-to-door route plans and has information about scheduled departures and trips near any current location and from any specified point.
Features include:
Interactive and fully integrated Trip Planner
Real time departure information for Dublin Bus and Bus Éireann services
All Ireland coverage including rural locations as well as cities such as Dublin, Belfast, Cork, Galway, Limerick, and Waterford
All licensed public transport operators included
All modes of public transport including trains, buses, and trams from transport providers such as Dublin Bus, Luas, Bus Éireann, DART, Commuter Rail, AirCoach, Swords Express, GoBe, Matthews Coaches etc
Displays stops "near you"
Dynamic zoom and scroll mapping
GPS using "my location"
Updating maps "on the go"
Saves favourite locations and recent journeys
Email and In calendar functions
The Journey Plan App is available in the App Store (Apple), the Play Store (Google), and the Windows Store.
In 2017 our international conference was held in Auckland, New Zealand in partnership with the ACDA, New Zealand Community Development Association. Under the title Sustainably Yours, community development and a sustainable future! This continued our roadshow of events related to the implications for community development of the UN Sustainable Development Goals. For more information, please see the conference website. A report on the 2017 New Zealand conference has just been published and some papers appeared in the April 2017 issue of Practice Insights magazine.
The conference themes of Sustainable Community Development and Agenda 2030 are now firmly established as driving IACD's policy into practice agenda over the coming years. Further proceedings from the conference will be published  in Whanake the Pacific Journal of Community Development and shared with IACD members.
Huge thanks to IACD Oceania Director John Stansfield and colleagues for producing this report.
http://www.unitec.ac.nz/epress/wp-content/uploads/2017/07/ACDA-IACD-2017-proceedings.pdf 
http://www.aotearoacommunitydevelopmentassociation.com/2017-cd-conference.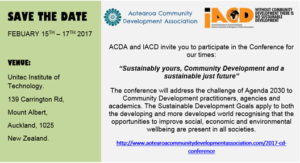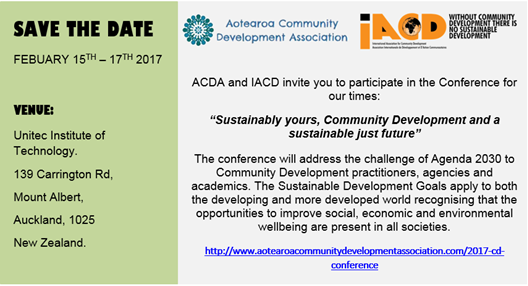 In 2016 we partnered with the European Community Development Network to hold a European Regional conference on the implication for community development of the UN Sustainable Development Goals. Around 100 attended. A report of the conference, including a statement from participants on future collaborative action across Europe can be found in the Practice Insights 6 magazine.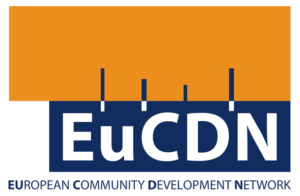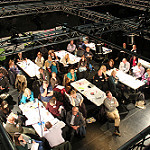 In 2016 we partnered with the Nigerian Community Development Practitioners Association to run an African Regional conference. Over 60 IACD members attended this conference. Topics covered included:
 Education and Community Development
 Peace, Conflict and Disaster Management
 Health Sector, Welfare and Youth Development
 Policy Frameworks, Community Change and Faith Based Issues
 Community Participation and Voluntary Sector
 Innovations, Communications and Extension Support Issues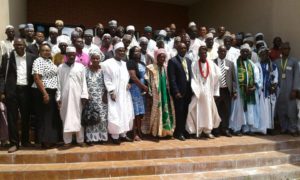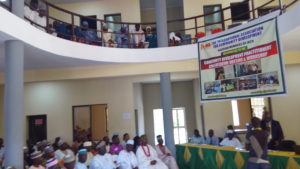 In 2016 we partnered with the U.S. The Community Development Society (CDS) to organise a joint Conference in Bloomington, Minnesota with the theme: Sustaining Community Change—Building Local Capacity to Sustain Community Development Initiatives, with a special focus upon the implication of the UN Sustainable Development Goals for Community Development.  Keynote speakers included the Vice President of the World Bank. Several hundred practitioners and scholars from over thirty countries attended this four day conference. The December 2016 issue of Practice Insights magazine contains a report from the conference.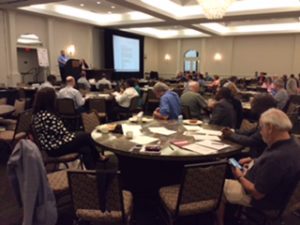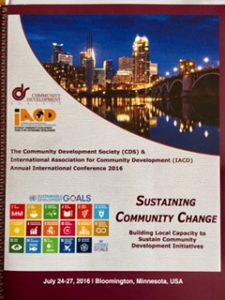 In 2016, we ran a South Asia regional conference in New Delhi in partnership with Grassroots. This was the first of our roadshow events about the implications of the UN SDGs for community development.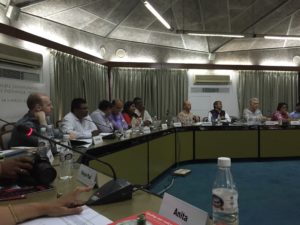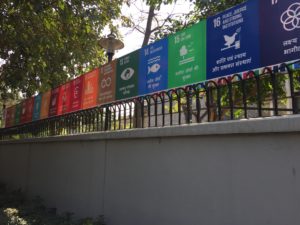 In 2015, we ran an international session and reception and our AGM at the 50th Anniversary Conference of our partner the international Community Development Journal.  Participants attended from across the world to celebrate half a century of community development scholarship. Author Marj Mayo, IACD and CDJ Board member was one of the keynote speakers. See  http://www.youtube.com/watch?v=tuchj3cXRWc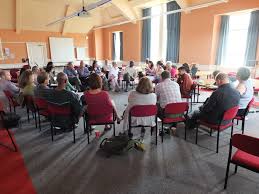 In 2014, 500 delegates from 32 countries came together in Glasgow, Scotland, to consider "What is our common wealth?" and to celebrate community-led action around the globe. Over three and a half days, a lively crowd of community members, activists, practitioners, researchers and policymakers explored how community development approaches catalyse and sustain change. Conversations were structured around three themes: Health, Wealth and Power. Our partner here was the Scottish Community Learning and Development Standards Council.
Find out more about IACD's 2014 international conference: www.iacdglobal.org/cita2014
Download the conference report to read more!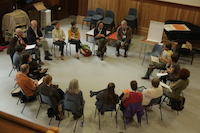 In 2013 we ran two smaller celebratory events to coincide with our 50th anniversary.  These were both held in the UK, the first in Scotland, where we are based, supported by the Carnegie UK Trust, and the second in London, supported by the Carnegie Foundation.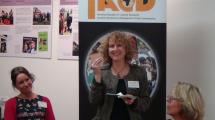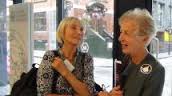 In 2011, delegates from Around the World met in Lisbon, Portugal. Hosted by the Sociedade Portuguesa de Psicologia Comunitária and the Instituto Superior de Psicologia Aplicada (ISPA), the conference attracted approximately 200 delegates from Europe and around the world. The theme of the conference was 'Transformative Leadership and Empowering Communities'. Sessions allowed sharing of research and practice in areas such as community participation, women and leadership, migration, integration and entrepreneurship.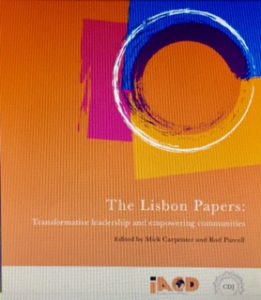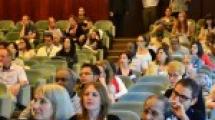 In 2010 we partnered with the US Community Development Society to run an international conference in New Orleans, USA on The Role of Community in Economic and Disaster Recovery.  You can find more information here http://www.comm-dev.org/images/attachments/069_September%202009.pdf
In 2009, several hundred participants from around the world, attended our conference in Brisbane, Australia, on the theme Building Community Centred Economies.  You can read the conference report here.
IACD brisbaneconferenceprogram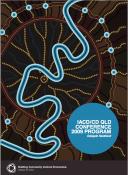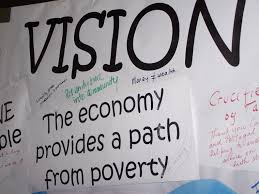 In 2008 our international conference was in Nova Scotia, Canada under the title What's Working in Community Development, Nova Scotia. You can find out more here https://ccednet-rcdec.ca/en/event/2008/06/23/conference-whats-working-community-development-nova-scotia
In the past twenty years, we have held conferences with partners in Africa (four times), Middle East (once), Asia (three times), Europe (four times), North America (five times), Oceania (three times).
We will be looking for a South American partner post 2018.