IACD runs conferences every year. These are international or global regional conferences, intended to bring community development practitioners, students, trainers from around the world together to share experiences and to hear some of the world's top experts in our field.
IACD NIGERIA CONFERENCE 12TH – 15TH NOVEMBER 2017
CENTRE OF COMMERCE KANO Faculty of Earth and Environmental Sciences, Bayero University Kano, Nigeria
Arrival: 12th November 2017 Conference/Workshop & Meeting: 13th and 14th November, 2017 Departure: 15thNovember 2017
THEME: STRENGTHENING STATE-THIRD SECTOR ENGAGEMENT FOR SUSTAINABLE COMMUNITY DEVELOPMENT
Participants who wish to present papers are expected to send abstract of their papers to shitumbshitu2@gmail.com and copy icdpnigeria2014@gmail.com or iceada4husna@gmail.com and before or on 30th  October, 2017
CONFERENCE OBJECTIVES:
The objectives of the meeting and conference/workshop are to:
Provide opportunity for all IACD members to know each other and for recruitment of new members,
Create a platform for promoting the ideals and goals of the IACD in Nigeria and in Sub-Saharan Africa in general,
Discuss ways of promoting community development roles of the third sector
Examine ways of facilitating sustainable community development through collaborations between state and the third sector
KEYNOTE PAPER PRESENTER:
Dr Aminu Garba Magashi
Coordinator and Founder, Africa Health Budget Network (AHBN) and Civil Societies Representative, Global Financing Facility (GFF) Investors Group
LEAD PAPER PRESENTERS
Hajiya Mairo Bello,
Chief Servant/Founder, Adolescent Health Information Projects (AHIP), Kano
Abubakar Ali, University Utara Malaysia, 060100 UUM SINTOK, KEDAH DARUL AMAN, KEDAH, MALAYSIA
CONFERENCE: SUB-THEMES
The third sector as a factor in development: Concepts, purpose and best practices
Public Governance through the third sector
State-Third sector engagement challenges and opportunities
Models of State-Third sector engagement
Community governance as a vehicle for promoting Sustainable Development
Promoting National Unity through Community Governance
Mobilisation and Partnership with/by Non Governmental Organisations for Sustainable Development
Achieving sustainable development goals through third sector initiatives
Service delivery for sustainable development through public sector, private sector and third sector engagements
Media Institutions and Sustainable Community Development
Voluntary Sector Institutions and Community Development
Impact of Community Self Help initiatives on sustainable community development
Promoting policy change through State-Third Sector Engagement for Sustainable Development
All participants shall:
Pay conference registration fees of Seventeen thousand naira (N17, 000.00) only. Students' registration is Ten Thousand Naira (N10, 000.00) only. Payment shall be made directly to the bank account detailed as follows: Name of Bank &Address: Guaranty Trust Bank PLC, Bello Road, Kano, Nigeria Account Name: ICEADA Account Number: 0020670026 Swift Code: GTBINGLA
Participants who are unable to pay before the workshop date would pay Eighteen thousand four hundred naira (N18, 400.00) at the venue of the workshop (at the point of registration).
Arrange for their accommodation If you require a hotel reservation please contact Garba on  080 37003397,  08089054213 or iceada4husna@gmail.com for facilitation
Participants who wish to participate in a community mobile learning workshop slated for 14th and 15thNovember, 2017 are to pay additional N3,000.00
For more information please contact 
Prof. Muhammad Bello Shitu
CONVENER/CHAIRMAN NATIONAL ORGANISING COMMITTEE
Regional Director (Africa, South Sahara) and Vice President
International Association for Community Development 
shitumbshitu2@gmail.com, 08033175965
IACD IS PLEASED TO BE ASSOCIATED WITH THE COMMUNITY DEVELOPMENT SOCIETY OF THE PHILIPPINES ASIA-PACIFIC CONFERENCE
Theme: "Reflexive Community Development Practice Amidst
Complex Realities and Alternative Movements"De La Salle-College of Saint Benilde. Philippines
PLEASE NOTE THAT THE CONFERENCE DATE IS BEING RE SCHEDULED TO THE NEW YEAR 2018.
CALL FOR PAPERS: Abstracts should be sent to cdspconference2017@gmail.com Please contact the PCDS conference office for further details about the conference and not the IACD office.
CONFERENCE SUB-THEMES
-Climate Justice and Disaster Resilience
-Populism and People's Critical Participation
-Urbanization and (Dis)placement
-Human Rights and Peace
-Feminist Justice and Gender Rights
-ASEAN's Neoliberal Framework, Solidarity Economy and Community Enterprises
In February 2017 our international conference was held in Auckland, New Zealand in partnership with the ACDA, New Zealand Community Development Association. Under the title Sustainably Yours, community development and a sustainable future!
This conference continued our roadshow of events related to the implications for community development of the UN Sustainable Development Goals. For more information, please see the conference website. A report on the 2017 New Zealand conference has just been published and some papers appeared in the April 2017 issue of Practice Insights magazine. (See Publications Page of this website).
The conference themes of Sustainable Community Development and Agenda 2030 are now firmly established as driving IACD's policy into practice agenda over the coming years. Further proceedings from the conference will be published  in Whanake the Pacific Journal of Community Development and shared with IACD members.
Huge thanks to IACD Oceania Director John Stansfield and colleagues for producing this report.
http://www.unitec.ac.nz/epress/wp-content/uploads/2017/07/ACDA-IACD-2017-proceedings.pdf 
http://www.aotearoacommunitydevelopmentassociation.com/2017-cd-conference.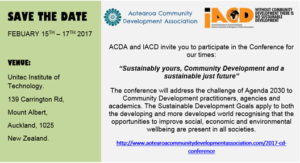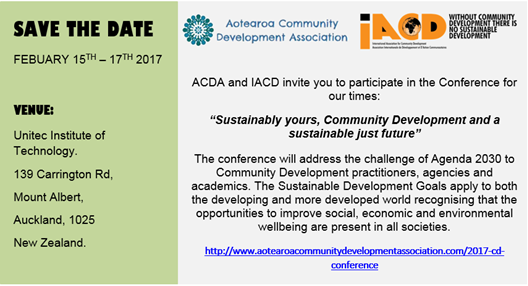 In 2016 we partnered with the European Community Development Network to hold a European Regional conference on the implication for community development of the UN Sustainable Development Goals. Around 100 attended. A report of the conference, including a statement from participants on future collaborative action across Europe can be found in the Practice Insights 6 magazine.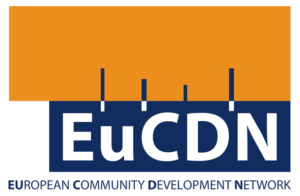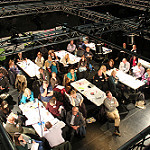 In 2016 we partnered with the Nigerian Community Development Practitioners Association to run an African Regional conference. Over 60 IACD members attended this conference. Topics covered included:
 Education and Community Development
 Peace, Conflict and Disaster Management
 Health Sector, Welfare and Youth Development
 Policy Frameworks, Community Change and Faith Based Issues
 Community Participation and Voluntary Sector
 Innovations, Communications and Extension Support Issues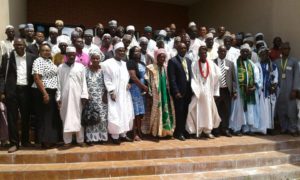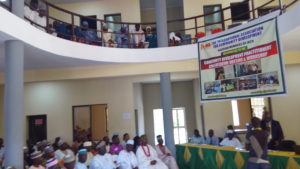 In 2016 we partnered with the U.S. The Community Development Society (CDS) to organise a joint Conference in Bloomington, Minnesota with the theme: Sustaining Community Change—Building Local Capacity to Sustain Community Development Initiatives, with a special focus upon the implication of the UN Sustainable Development Goals for Community Development.  Keynote speakers included the Vice President of the World Bank. Several hundred practitioners and scholars from over thirty countries attended this four day conference. The December 2016 issue of Practice Insights magazine contains a report from the conference.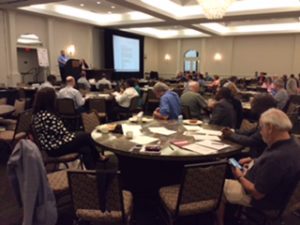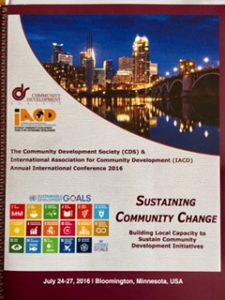 In 2016, we ran a South Asia regional conference in New Delhi in partnership with Grassroots. This was the first of our roadshow events about the implications of the UN SDGs for community development.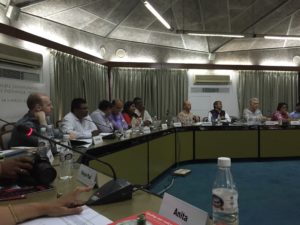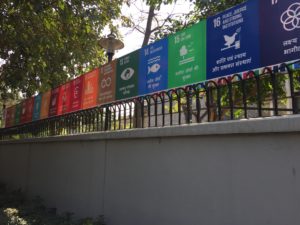 In 2015, we ran an international session and reception and our AGM at the 50th Anniversary Conference of our partner the international Community Development Journal.  Participants attended from across the world to celebrate half a century of community development scholarship. Author Marj Mayo, IACD and CDJ Board member was one of the keynote speakers. See  http://www.youtube.com/watch?v=tuchj3cXRWc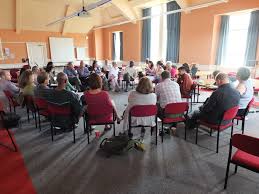 In 2014, 500 delegates from 32 countries came together in Glasgow, Scotland, to consider "What is our common wealth?" and to celebrate community-led action around the globe. Over three and a half days, a lively crowd of community members, activists, practitioners, researchers and policymakers explored how community development approaches catalyse and sustain change. Conversations were structured around three themes: Health, Wealth and Power. Our partner here was the Scottish Community Learning and Development Standards Council.
Find out more about IACD's 2014 international conference: www.iacdglobal.org/cita2014
Download the conference report to read more!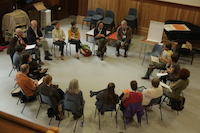 In 2013 we ran two smaller celebratory events to coincide with our 50th anniversary.  These were both held in the UK, the first in Scotland, where we are based, supported by the Carnegie UK Trust, and the second in London, supported by the Carnegie Foundation.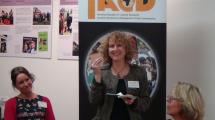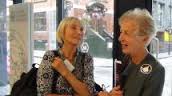 In 2011, delegates from Around the World met in Lisbon, Portugal. Hosted by the Sociedade Portuguesa de Psicologia Comunitária and the Instituto Superior de Psicologia Aplicada (ISPA), the conference attracted approximately 200 delegates from Europe and around the world. The theme of the conference was 'Transformative Leadership and Empowering Communities'. Sessions allowed sharing of research and practice in areas such as community participation, women and leadership, migration, integration and entrepreneurship.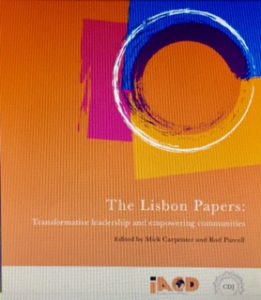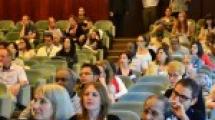 In 2010 we partnered with the US Community Development Society to run an international conference in New Orleans, USA on The Role of Community in Economic and Disaster Recovery.  You can find more information here http://www.comm-dev.org/images/attachments/069_September%202009.pdf
In 2009, several hundred participants from around the world, attended our conference in Brisbane, Australia, on the theme Building Community Centred Economies.  You can read the conference report here.
IACD brisbaneconferenceprogram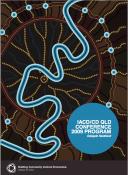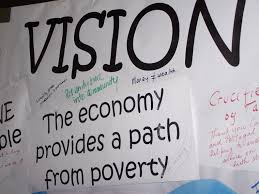 In 2008 our international conference was in Nova Scotia, Canada under the title What's Working in Community Development, Nova Scotia. You can find out more here https://ccednet-rcdec.ca/en/event/2008/06/23/conference-whats-working-community-development-nova-scotia
In 2007 Two hundred and fifty community development workers, academics, researchers, donors, policy-makers, and representatives from government, civil society organisations and community groups, met in Hong Kong, China at our international conference on the theme Partnership for People-Centred development: challenges and responses in a globalising world.  From this conference emerged the Hong Kong Declaration.
Between 1979 and 2006 we have held regional and international conferences with partners across the world
Dakar (Senegal) 1979
Kigali (Rwanda) 1980 
Cairo, Egypt 1983 
Seoul (South Korea) 
Charleroi (Belgium) 1984/86/91/96 (From 1978-98 this was IACD's HQ)
Taipei (Taiwan) 1987 
Bangkok (Thailand) 1989 
Banglamung (Thailand) 1993 
Pretoria (South Africa) 1997
Edinburgh (Scotland) 1999 (In 1978 the IACD HQ moved to Scotland)
Tel Aviv (Israel) 2000
London (UK) 2001
Rotorua (New Zealand) 2001
Montreal (Canada) 2002
Budapest (Hungary) 2004
Yaoundé (Cameroon) 2006